PINOCCHIO IN OUTER SPACE (1964).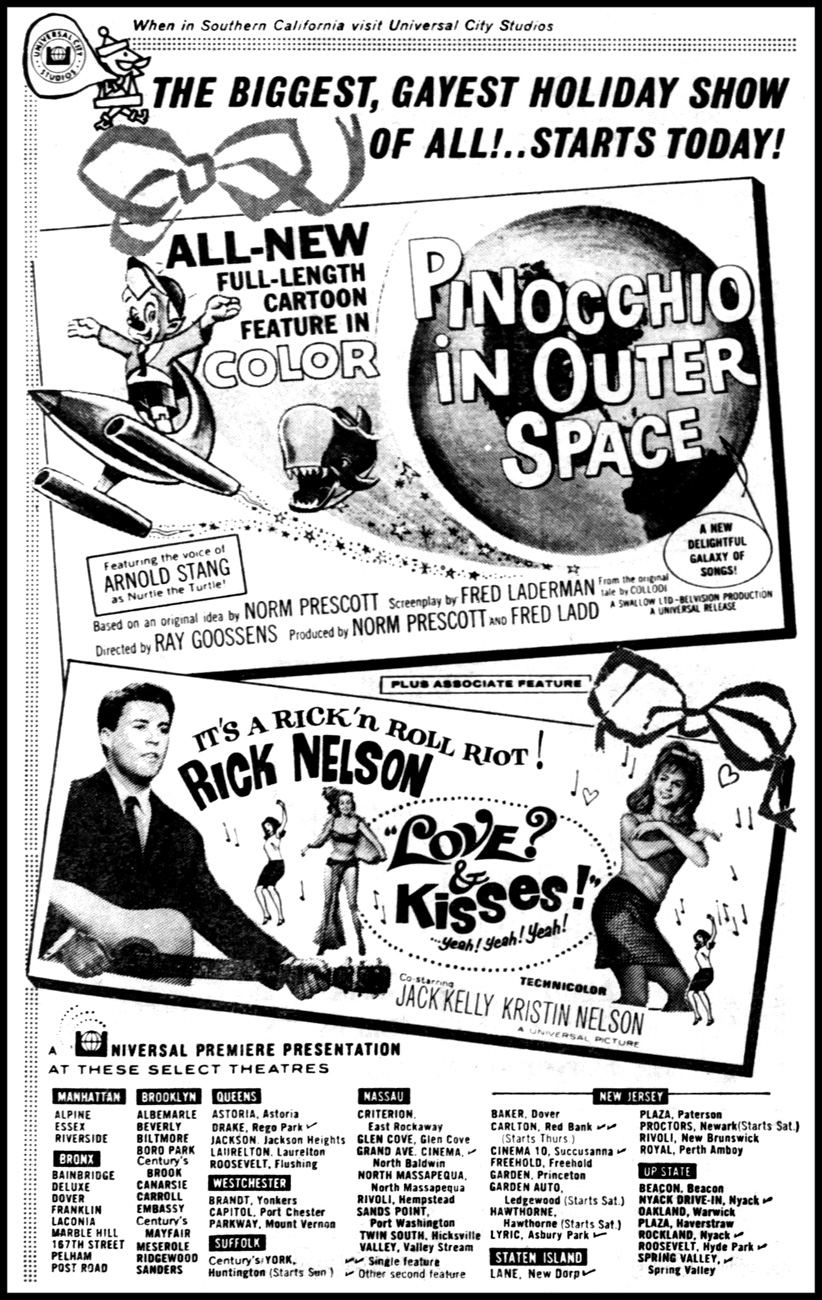 Even during its initial release, this feature-length cartoon had kids squirming in their seats with discomfort (without even a Fast Forward button to ease the pain). Cheaply animated, numbingly inane and loaded with terrible songs ("It's a Goody Good Morning" will made you want to shove your head in the oven), this Belgian-American fiasco should be force-fed to anyone who whines about how good animated films "used to be." The storyline is pure schmaltz, with Pinnochio -- once changed into a real boy by the Blue Fairy -- reverting back into a puppet because of his rude behavior. And now, this talking chunk of wood has to again prove himself. After wasting his money on a hypnosis book, sold to him by a pair of con men (including a gouteed beatnik named Mr. Groovy), Pinnochio decides to try out his half-baked powers on Monstro, a flying killer Space Whale, who comes complete with a rocket engine growing out of his back. With the help of an intergalactic space-reptile named Nurtle the "Twurtle" (voiced by future HERCULES IN NEW YORK co-star, Arnold Stang, best known for voicing Saturday morning TV's TOP CAT), Pinnochio heads on a quest to save the galaxy and turn back into a boy, with misadventures that include a visit to Mars and run-ins with gigantic sandcrabs. If any of this nonsense sounds remotely exciting -- it isn't! Monstro is about as terrifying as a Care Bear,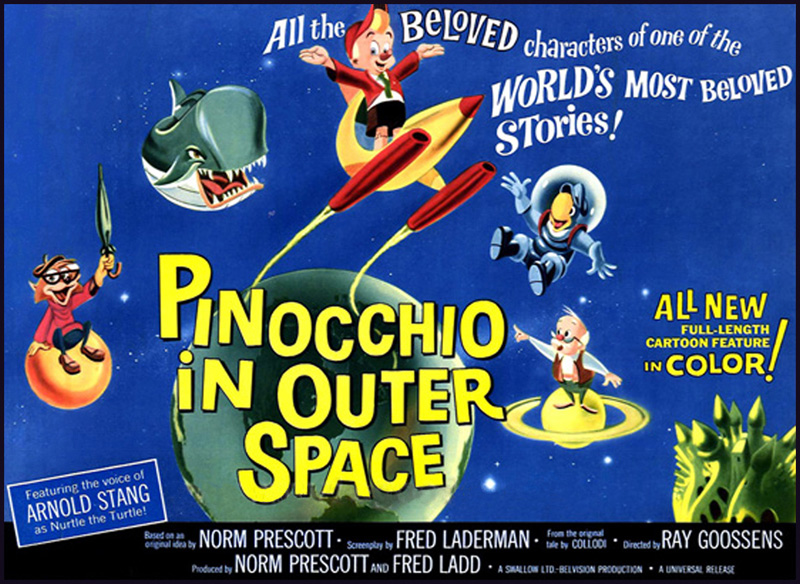 and Pinnochio's cheery, gee-whiz attitude is so grating, you wish Nurtle would suddenly go psycho and chop him into kindling. The animation is sub-par for its time, but you won't notice, because you'll be too busy hurling MST3K-style insults at the screen. And though it was nice the movie acknowledges its Carlo Collodi source material, his credit is so teeny that you can't make it out on video. All in all, a dismal slice of soft-headed pabulum which tries to teach adolescent audiences all about being nice to one another, studying hard, and becoming a total lemming to society -- when we all know those kids would've preferred a little genuine humor and hardcore action for their Saturday matinee dollars.

© 1998 by Steven Puchalski.