A PLEASURE DOING BUSINESS (1979).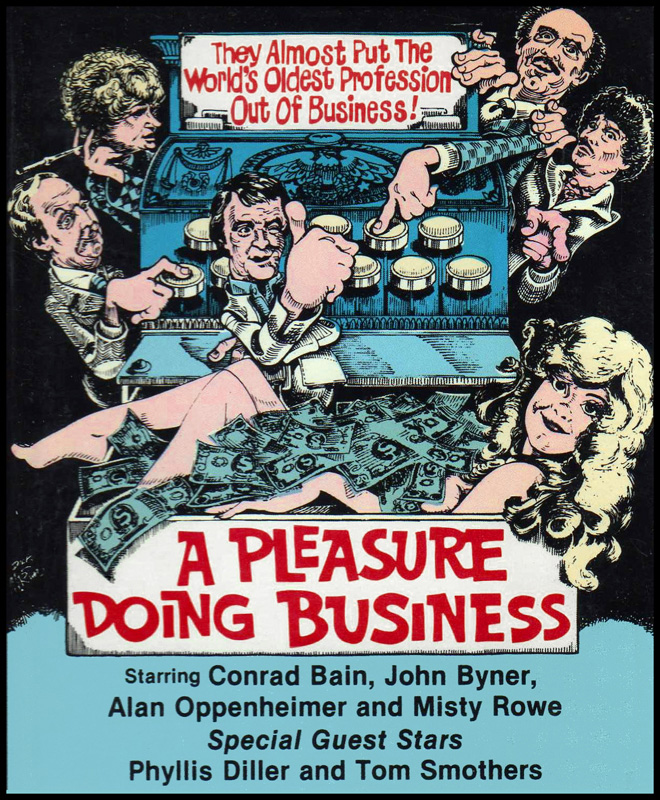 Try to imagine a super-sized episode of LOVE, AMERICAN STYLE, except without the budget, humor, technical skill, or artistic integrity. It would probably look something like this wacky, late-'70s, strictly-PG comedy about prostitution. Add comedian John "only bearable in small doses" Byner, chrome-domed character actor Alan Oppenheimer, Conrad Bain (proving that DIFF'RENT STROKES wasn't his lamest gig, after all), and "HEE HAW Honey" Misty Rowe, and it achieves a whole new level of bland mediocrity... Three fortysomething high-school friends -- Marvin (Oppenheimer), Herb (Bain) and wisecracking cabbie Lenny (Byner) -- reunite at an old classmate's bachelor party, that concludes with an on-stage appearance by a skantily-dressed callgirl. When these chuckleheads discover that she pulls in two G's per week, a 'brilliant' idea fills their li'l pea brains. They're all tired of schlepping through dreary 9-to-5 jobs, so why not partner up and open a bogus corporation as a front for prostitution? All they need is the right woman. After rejecting ugly applicants and a crossdresser (which sends homophobic Lenny screaming for safety), Marvin runs into buxom-ditz Ronnie Harris (Rowe), a wildly-untalented artist whose childish paintings are as inept as Misty's acting chops. The trio convince this braindead blondie that she can become a famous artist by embracing the "Neo-Erotic Movement," which entails screwing everyone they send her way. But (here's the big joke, folks) Ronnie never realizes that she's actually a hooker, even when her 'patrons' have her boinking at various business conventions -- hardware, funeral directors, magicians, et cetera... Misty is cute but her bimbo act wears thin quickly (particularly since her clothes stay on), and there are also appearances by Bubba Smith as another classmate who's now a successful pimp; Phyllis Diller as Ronnie's nosy landlady, Mrs. Wildebeast; Tom Smothers is Alfredo, the ultimate ladies' man (who's hired to loosen up Ronnie's inhibitions); and David Landsberg throws a monkey wrench into the plot as a nebbishy Woody Allen-esque suitor. This might've had a chance as an R-rated sex-romp -- some gratuitous nudity couldn't have hurt -- but all we get is flat direction, insipid writing and a bunch of desperate TV-actors who were stuck with this lousy, St. Louis-lensed job after THE LOVE BOAT passed on 'em. Complete with some last-minute moralizing and a hopelessly slapstick finale, most of the blame goes to first (and-only-time) writer-director-producer Steven Vagnino, but this is a laugh-barren embarrassment for everyone involved.

© 2008 by Steven Puchalski.