RENALDO AND CLARA (1977).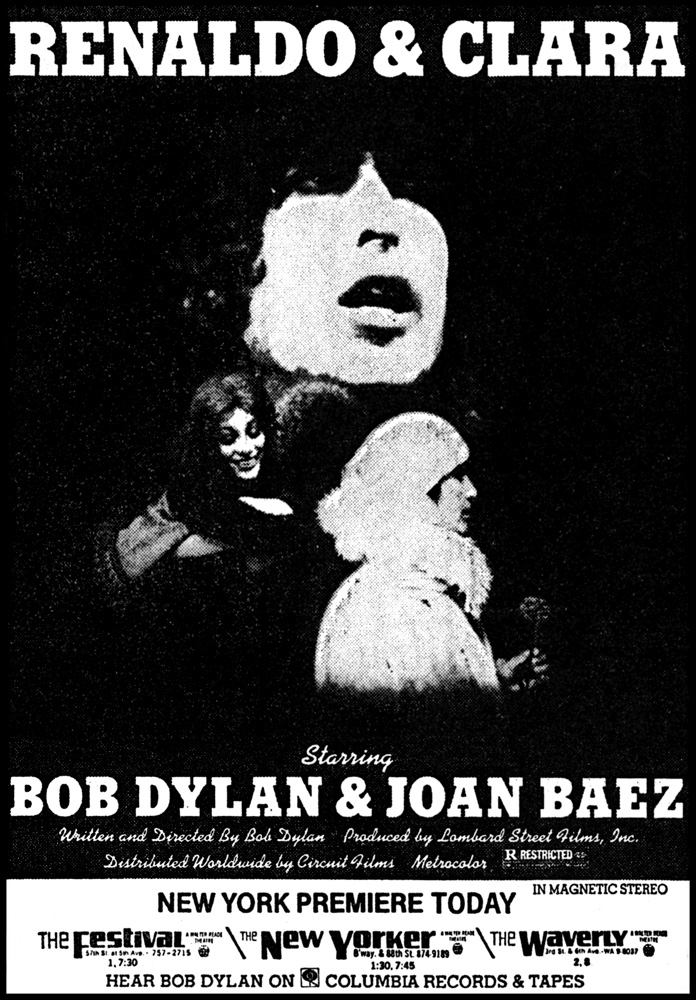 Hoooboy! It's time for a long, murky dive in Pretentiousville, as we tackle Bob Dylan's now-legendary cinematic miasma. Clocking in at nearly four hours (though some prints were later trimmed by Zimmy to a little over two hours for 1978 theatrical screenings), R&C is a rambly, near-incoherent document of Dylan's Rolling Thunder Revue. And it comes across as one monstrous home movie -- but since it's Bob's home movie, it's definitely worth a look. Never one to take a straight-forward route, writer/director Dylan clouds the entire film in riddles, while meshing concert footage and backstage rambling with political rhetoric, pseudo-documentary filler, and utterly bewildering fictional sequences. Then all this footage seems to have been edited together with a Weed Eater, with sequences abruptly cutting off, others beginning in the middle, and earlier ones resuming at any random moment...But the first thing I should make clear is the fact that this is NOT a bad movie, as most vapid U.S. critics unjustly labelled it -- simply a dazed and confused one. And though frustratingly enigmatic, there are so many choice bits laced throughout, it still keeps your attention (IF you're a Dylan fan, that is. If not, you'll want to avoid this film like you would a Republican fundraiser). And it's a hell of a lot better than that wretched HEARTS OF FIRE flick Dylan starred in a couple years back with flash-in-the-pan rocker Fiona... You immediately realize you're in the Land of the Weird when the film opens with Dylan on stage, singing "When I Paint My Masterpiece" while wearing a clear plastic Halloween mask.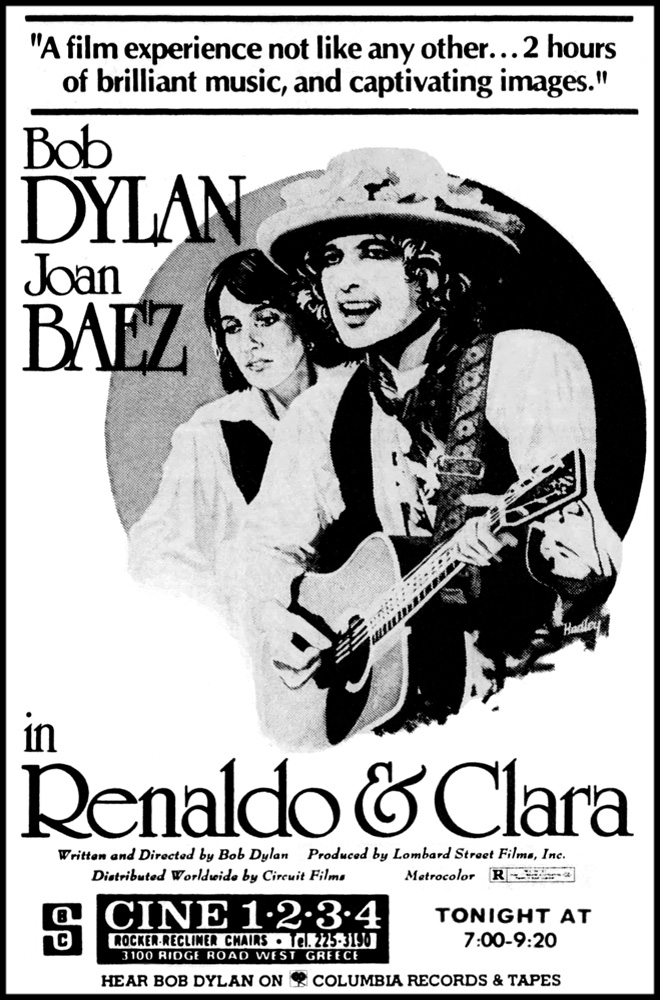 And we're in turn treated to some great stories of Dylan's early career and the Greenwich Village music scene; rants by Bible-thumping dimwits; roadies at work setting up the stage; Indian Rights activists; a poetry reading by Allen Ginsberg; fast talking record execs; footage on Rubin "Hurricane" Carter's trumped up murder rap; and even moments of bizarre rural melodrama (probably due to Sam Shepherd's contribution to the script) featuring a clueless cameo by Harry Dean Stanton. But at least half of the running time is devoted to the wild, handheld concert footage from the Revue, featuring Bob in bizarre white face paint and stupendous live versions of "A Hard Rain's A-Gonna Fall", "Isis", "Tangled Up in Blue", "Knockin' On Heaven's Door", and many, many more... The one thing that occured to me while viewing this monstrous mess of a movie, is that if ANY film could represent the mechanisms of Bob's mind, this is it. Because it seems that whatever half-baked idea popped into his head, he tossed it onto the screen. Often it feels like one big cosmic joke--in most scenes Dylan is playing himself, in one scene Ronnie Hawkins claims to be Dylan, and toward the end Dylan is supposed to be Renaldo (Confused? Join the club.), with Sara Dylan playing Clara during a sloppy soap opera in which Sara and Joan Baez argue over Bob's affections... Featuring performances by Ronee Blakely and Roger McQuinn, this epic is filled with amazing music, pocked with virtually incomprehensible filler, and is without a doubt a one of a kind chunk of cinema. A tapestry of Dylan's life, with a few moth-eaten holes in it.

© 1992 by Steven Puchalski.