VOYAGE OF THE ROCK ALIENS (1984).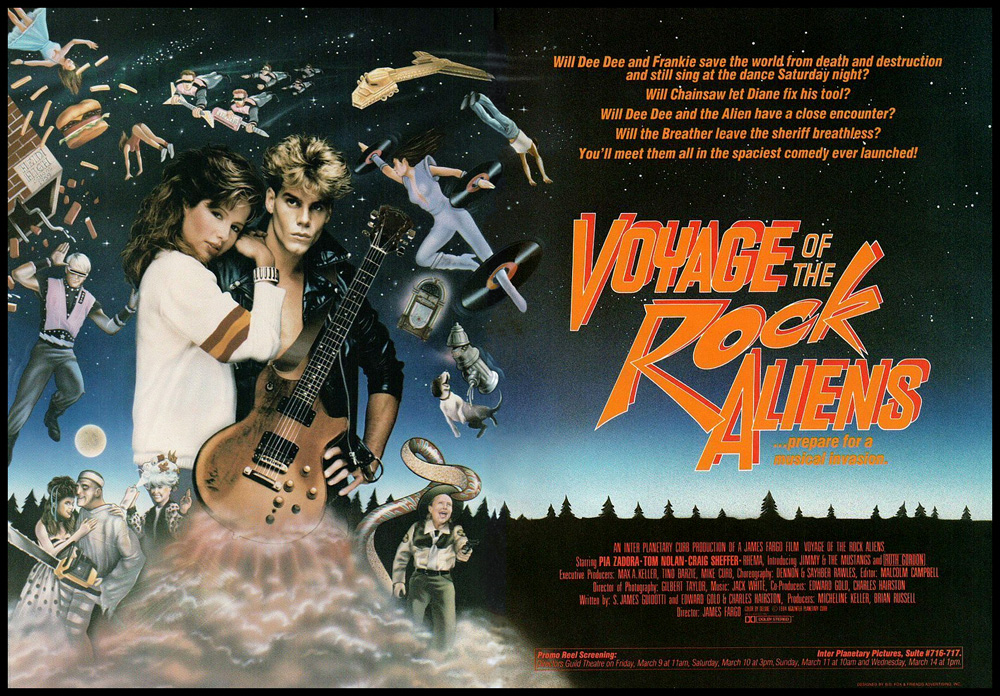 In my perpetual search for the ultimate in celluloid crapola, how could I pass this up? Imagine a cross between STAR WARS, HAPPY DAYS and XANADU, and you get this musical sci-fiasco starring Pia Zadora. Truly, we have found ourselves in Cinema Hell! It's not even lousy enough to keep you awake with its wretched charms -- although the opening dance video with Pia and Jermaine Jackson (MAD MAX crossed with BREAKIN 2: ELECTRIC BOOGALOO) might keep you running to the toilet with uncontrollable diarrhea. A spaceship (shaped like an electric guitar?) is in search of rock 'n' roll music and arrive at the quaint town of Speelburgh (groan), populated by '50s rockabilly asswipes. In homage to Annette Funicello's BEACH PARTY movies, Pia plays a character named Dee Dee, who dreams of being a singer, if only she could convince her leather-boy beau (badly-permed, pre-NIGHTBREED Craig Sheffer). The rest of this tripe has the techno-pop aliens playing at Heidi High's school dance;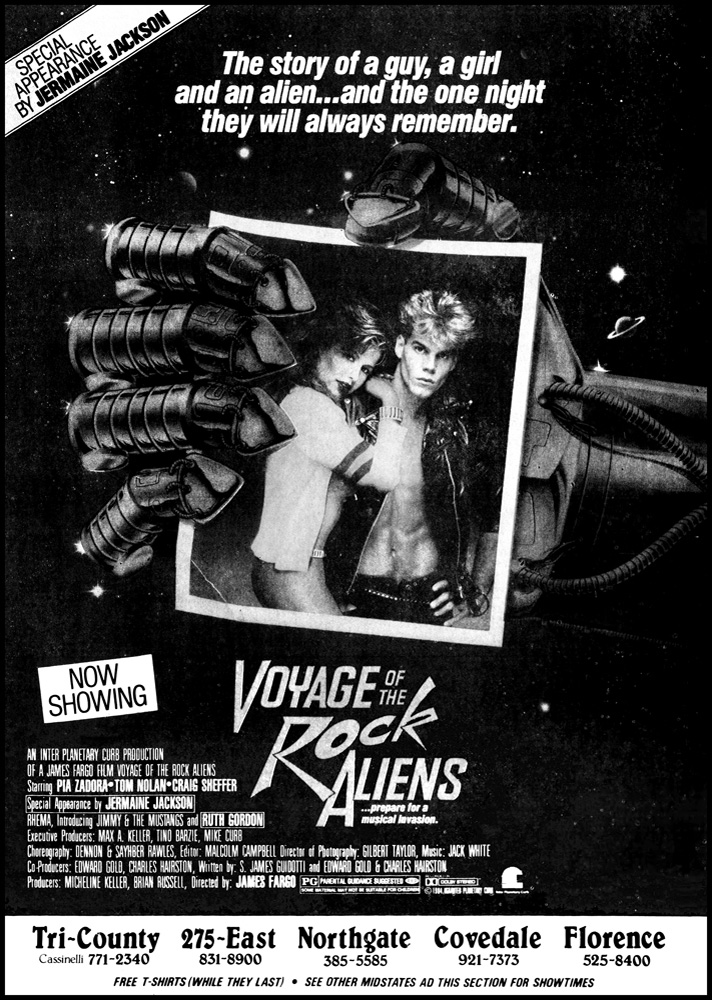 Ruth Gordon as the UFO-obsessed sheriff; Michael Berryman (THE HILLS HAVE EYES) typecast as an escaped mental patient; Sheffer lip-synching, complete with Solid Gold Dancer wannabes; while musically-challenged Pia gets her big break to sing (and the viewers' big break to Fast Forward). Stuffed into leather pants, it takes more than a skintight wardrobe to make Pia a sex symbol -- it'd take a fucking miracle! As it is, she looks like Olivia Newton-John after being put through a trash compactor. It'd be nice to report that Pia had a sense of humor about all of this, but after grimacing through Pia's live stageshow a couple years back (I had FREE tickets, OK?), complete with a gaggle of tired Broadway show tunes and her talent-barren brat, I'm convinced the poor deluded woman believes she's got a shred of talent. But the Career Nosedive Award has to go to director James Fargo, who started working with Clint Eastwood (THE ENFORCER), moved down the food chain to Chuck Norris (FORCED VENGEANCE), and ended up lensing this ridiculous Pia Zadora vanity project! I wouldn't have been surprised if, in the midst of production, the guy was found with his head in the oven. Bring this video home to a bunch of drunk friends and you might end up the same way.

© 1996 by Steven Puchalski.