ROGER CORMAN'S FRANKENSTEIN UNBOUND (1990).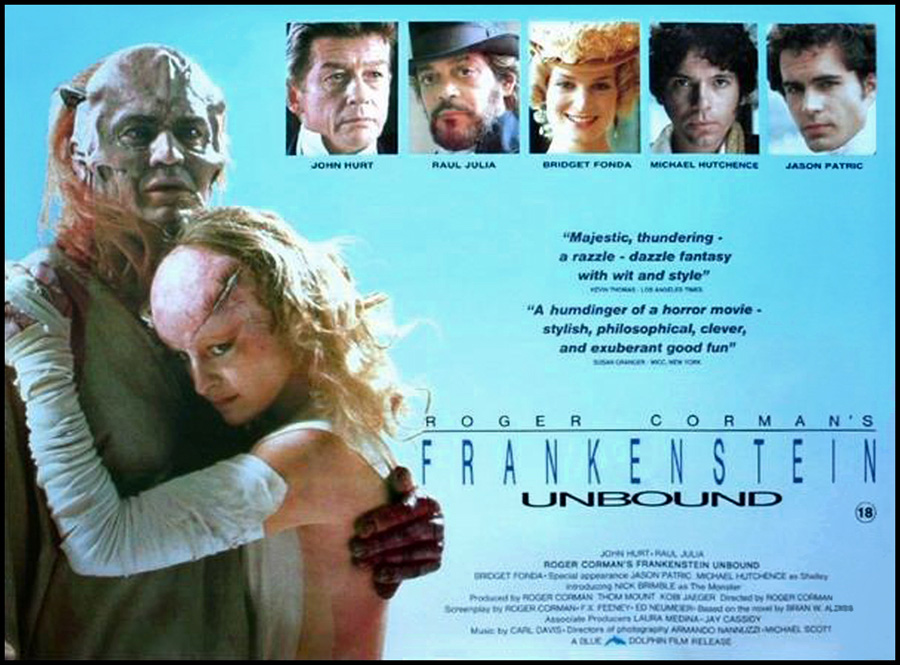 After spending the '70s and '80s putting his energy toward producing, Corman returned to the director's chair with this bizarre time-travel tale, based on Brian Aldiss' novel. It's no surprise that the film was mercilessly trashed by the critics during its initial release, because despite some imaginative twists, it's a pretty goofy endeavor. John Hurt stars as Dr. Buchanan, a New Los Angeles scientist in the Year 2031, who has developed a destructive partical beam which he hopes will be the perfect weapon. Instead, it opens up a rift in time when used, with Hurt and his futuristic talking car (shades of KNIGHTRIDER!) transported back to early 19th century Geneva. It's there that he accidentally runs into a fellow doctor -- by the name of Victor Frankenstein (Raul Julia). And it seems that Frankenstein's lumpy-faced (but articulate) creation is creating havoc around town, and is angry at the Doctor because he refuses to make him a mate. More important, Frankenstein is upset because in his quest to free humankind "from a cruel and ficticious God," he has instead created an abomination. But in Buchanan he finds a kindred spirit, because while Frankenstein has bent the laws of nature by creating a man, his friend from the future has "fractured the core of time and space" with his foolhearty pursuits. While trapped in the past, Buchanan also tries to save a village girl, wrongly accused of killing Victor's brother. In doing so, he encounters a young, pre-published Mary Shelley (a prim Bridget Fonda), and later visits her, gives Mary a taste of her future,
and meets Lord Byron (an ill-at-ease Jason Patric) and husband-to-be Shelley (Michael Hutchence, best known at the time as singer for the band INXS). Buchanan finally aids the ever-more-nutty Frankenstein in reanimating a woman, as the entire film spins out of control -- taking us to an icy wasteland, increasingly sledgehammer themes of how mankind will destroy itself in its pursuit of science over humanity, and a dour, hokey finale... Boy, this is a mess, and fans of Aldiss' original are sure to want to kick Corman down a flight of stairs, while much of the pic is hokey (check outy those cheesy matte paintings), unintentionally humorous (Hurt driving around the 1817 countryside in his spiffy sports car), or just plain unbelievable (Hurt's unlikely one-night-stand with Mary). Back in Corman's drive-in days, working on a cut-rate budget, those moments were par for the course. Unfortunately, this pic proves that Rog was unable to change with the times---in fact, his hallucinogenic nightmares look like they were taken straight out of his Poe films from the '60s. Still, for a Corman project, this is opulent beyond words, with honest to goodness special effects (instead of his usual not-so-special effects), and an all-star cast giving it their best, even in the face of undiluted idiocy.

© 1994 by Steven Puchalski.