SATAN HATES YOU (2010).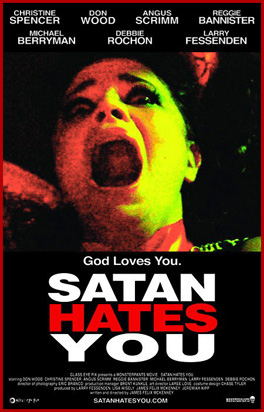 Promiscuity, drugs, homosexuality, murder, abortion... There's no shortage of hellbent behavior in the latest outing from Glass Eye Pix and writer-director James Felix McKenney (THE AUTOMATONS), who've created a live-action equivalent of a Chick Publication (you know, those campy li'l religious pamphlets, with illustrated stories on how to save your immortal soul). Following in the grand tradition of Ron Ormond classics like IF FOOTMEN TIRE YOU, WHAT WILL HORSES DO? and THE BURNING HELL, its basic storyline takes the path of most Christian propaganda cinema -- but with a brilliantly alternative agenda. Oh, did I forget to mention that it's also incredibly funny? This weird and wild voyage into sin, damnation and potential redemption follows two spectacularly screwed-up individuals. First there's Wendy (Christine Spencer), a slutty little party girl who's heavily into freaky drugs and anonymous sex, until she suddenly finds herself knocked up! An even worse offender is Marc (Don Wood), a down-'n'-out drunk who occasionally finds himself in booze-fueled situations -- like waking up in a strange hotel room with another guy, then beating him to death with a handy Bible! Aiding these two lost souls in their bad decisions are pair of cackling, horned demons (Larry Fessenden, Bradford Scobie) who coax humans toward sin, then delight in the bloody results. Wendy's nightmarish trip to an underground abortion clinic is particularly foul and over-the-top; while Marc's attempt to seduce a female barfly goes horribly awry, since this closeted, self-loathing homosexual is a "freak of nature." Most importantly, can our pair accept Jesus and find salvation before it's too late? If you're anything like me, the astonishing climax will leave you incredibly impressed... and laughing your ass off! Both Spencer and Wood offer appropriately-tormented performances, while the supporting cast is littered with horror faves. Reggie Bannister plays a bar-owner pal of Marc's; Debbie Rochen is a reformed 'Bad Girl' turned 'Jesus Freak'; Michael Berryman shows up as a judgmental hotel desk clerk; and Angus Scrimm pours on the gravitas as a Bible-spouting TV-preacher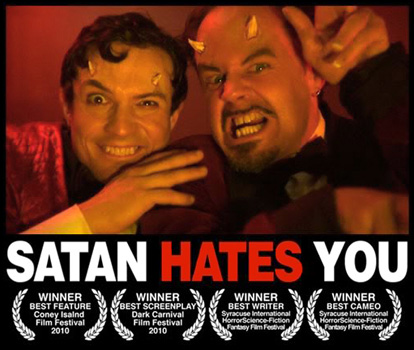 with an unexpectedly-close connection to the man upstairs. Vibrantly shot by Eric Branco, the script embraces any opportunity to impugn evil-doers such as lesbian abortion-advocates, pot-selling D&D-players or Ouija board users. Far more than just a broad, satirical send-up of Christian fear-mongering, SATAN HATES YOU sincerely replicates these holier-than-thou films, while emerging as a truly subversive work of art.

© 2010 by Steven Puchalski.