SAVAGES (1974; Just For the Hell of It).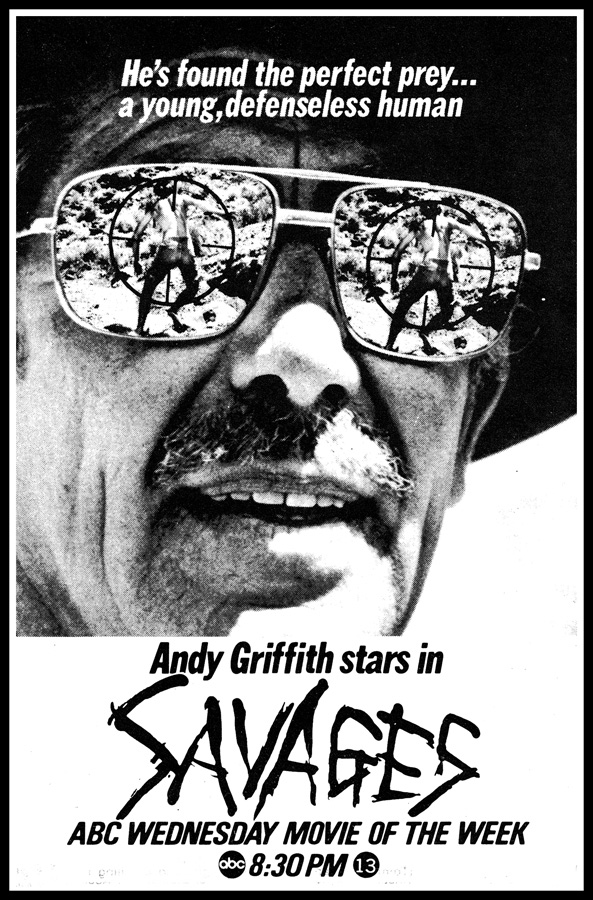 After spending eight seasons and 249 episodes protecting the sleepy town of Mayberry, North Carolina, Andy Griffith seemed like the embodiment of '60s small-town America. But in 1974, he managed to traumatize millions of unsuspecting prime-time fans with his maniacal turn in one of the nuttiest made-for-TV movies of all time, PRAY FOR THE WILDCATS -- a motorcycle road trip to Baja (along with fellow TV-icons Robert Reed and William "Worse Hairpiece Than Usual" Shatner) where sweaty, drunken Griffith menaces a hot blonde in a Mexican bar and attacks a "hippie" with an ax. Only eight months later, Andy continued in the same vein with the TV-movie SAVAGES. Griffith plays Horton Madec, a wealthy lawyer who needs a local guide for a private big-game trip into the desert. Enter Sam Bottoms (APOCALYPSE NOW) as righteous young Ben Campbell, who agrees to help this trophy-hunter with his goal of bagging a ram. Unfortunately, once in the middle of nowhere, Madec recklessly shoots at a moving figure and accidentally kills some old kook. Upstanding Ben wants to report the death, sleazy Madec prefers to literally bury his crime, and when they can't agree, what's the only sensible solution? Leave poor Ben in the middle of the desert, 45 miles from civilization, without any water and in only his skimpy li'l cut-off shorts! From there on, it's a two-man battle to survive, with Ben (hungry, dehydrated, barely-clothed, yet surprisingly resourceful) versus Madec (armed, vicious, trailing the kid in a jeep, but with a wooden leg slowing him down). This cocky bastard underestimates Ben though, who goes on the offense in the second half, aided by a handy slingshot. The final act loses steam, with a return to town and no one believing Ben's cockamamie story, since Madec is a respected rich dude and the cops seem more inept than Barney Fife. This premise is mighty simple and contrived, even by '70s TVM standards, with most of it set in the Mojave and featuring only its two stars. Bottoms is a little green, but Griffith excels at playing an evil, sadistic son-of-a-bitch who casually mixes himself a refreshing cocktail, as Ben bakes to death in the blazing sun. Adapted from Robb White's novel "Deathwatch" (an Edgar Award winner in the 'Juvenile Mystery' category), it has workmanlike direction by Lee H. Katzin (THE PHYNX, WHAT EVER HAPPENED TO AUNT ALICE?) and a teleplay by William Wood (OUTRAGE, DEATH CAR ON THE FREEWAY), but the main attraction here is watching Griffith gleefully trashing his nice-guy reputation. This J4HI package includes the aforementioned WILDCATS, and makes the perfect dirtbag-Andy double bill.

© 2010 by Steven Puchalski.