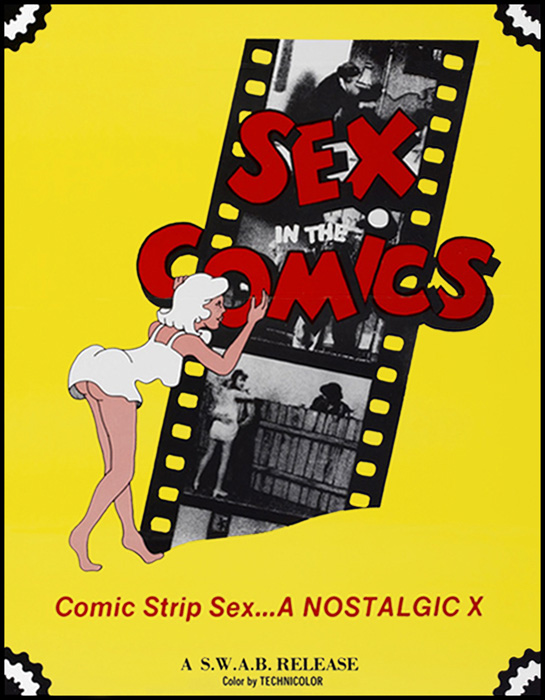 Utterly ridiculous and unfathomably misguided, this no-budget, live-action tribute to Tijuana Bibles -- raunchy, 8-page comics that pre-dated porn mags and kept young men hard with their forbidden funnies -- boasts one of the least erotic, "what-the-fuck-were-they-thinking?" high-concepts for an X-rated feature. Instead of using actual sets, the filmmakers simply painted furniture, fake windows or trees onto theatre flats, while the men wear masks with large, googly eyes and lumpy, penis-like noses, in order to look like cartoon characters. Thankfully, the women avoid these masks (or many clothes once the humping kicks in)... Prim magazine writer Della Fields gets plenty of bang for her buck when she visits the studio of cartoonist Drake Johnson, to research an article on his beloved creation, Pinky the Cat. He instead decides to tell this young woman all about the lurid, post-WWI history of the "eight-pagers" and a "fictitious" young artist who once made ends meet in this sexually-graphic field. It then segues into a variety of raunchy vignettes based on these infamous dirty-digests. Each episode only lasts two to four minutes and, after its softcore sex scene (which occasionally freeze-frames, as if to resemble a comic panel), concludes with a hoary, humorous twist. For example, a blind-drunk husband is unaware that his wife is in bed with another man. Most of them are parodies of popular, clean-cut comic characters (with their names ever-so-slightly changed): Country clod "Barney Guggle" visits the big city and bangs a fake Countess;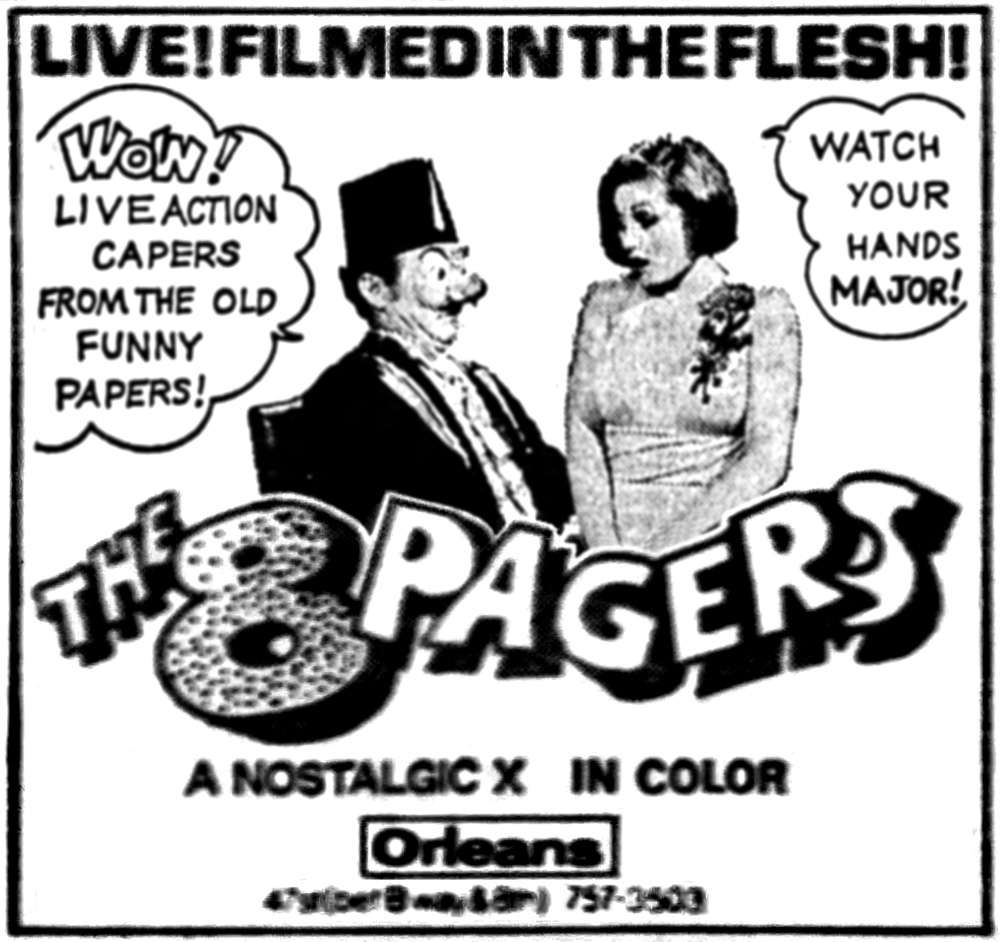 "Dogwood" is seduced by a door-to-door contraception saleswoman; "Betty Boob" (who isn't nearly as sexy as Fleischer's animated creation) comes onto a muscular lifeguard at the beach; detective "Richard Lacy" ("Call me Dick") investigates a cheating wife and her lesbian lover, and later fucks a criminal temptress; plus many more. All the while, we keep cutting back to Johnson's office, with our female journalist increasingly aroused by his anecdotes and slowly stripping off her clothes... Oddly enough, no one involved was willing to take credit for this 70-minute film, and instead used pseudonyms such as director "Eric Von Letch", writers "Paul Pervertt" and "Miles Muff", lead actors "Lance Hardon" and "Clara Clitt", and cinematographer "Boris Kutchacockoff". The women (who play multiple roles) are abysmal in the acting department, and their bodies are often even worse, while the guys get off easier because they can't be identified (although a colleague swears that one of the male performers is Duke Mitchell!). This definitely isn't sexy, and I'd be hard-pressed to label it a comedy, since I didn't laugh once; but I was utterly stunned throughout.

© 2009 by Steven Puchalski.