THE WORLD'S GREATEST SINNER (1963).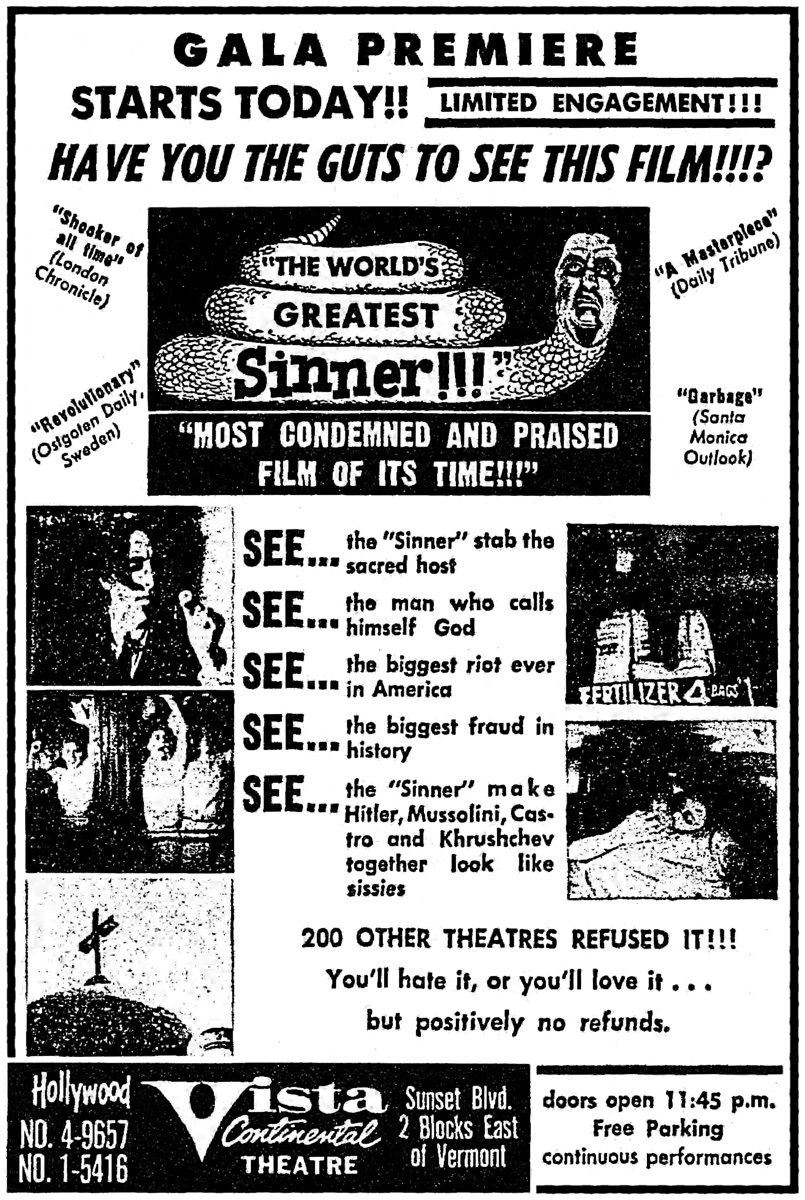 Run, do not walk, to check out this movie! Timothy Carey, the character actor fave who appeared in everything from Stanley Kubrick's THE KILLING and PATHS OF GLORY to THE MERMAIDS OF TIBURON, BEACH BLANKET BINGO and The Monkees' HEAD, spent several years directing, writing and financing this below-low budget blast. One of the most bizarre movies ever made, and over three decades later, it's STILL ahead of its time! A grotesque parable that's as innovative and subversive as any film ever made. Carey sticks himself in the lead as Clarence Hilliard, a middle-aged insurance agent who goes nutzo and decides to become a rockabilly messiah. Abandoning his normal life, he changes his name to "God" and stands on street corners, handing out flyers, recruiting white-trash greasers to his fire 'n' brimstone "Life is Hell" doctrine. To raise money for his cause, he seduces old ladies for cash, and performs in an Elvis-like silver-lame suit. He even starts his own "Eternal Man" political party, which promises to make everyone a "superhuman being" (their motto: "There's only one God, and that's Man."). This is seriously whacked stuff, folks, and Carey pulls off one of the most intense, overwrought performances of all time (putting novice scenery-chewers like Dennis Hopper to shame) -- ranting, crying, dancing, and looking wasted, his eyelids at half-mast throughout. Eventually, Clarence's followers begin rioting and vandalizing,
but that type of social upheaval has to be expected when a new God suddenly emerges -- especially one that promises "No Death" to his fans. When the political machines get wind of his rock'n'roll charisma, they run him as an independent candidate for president, but Clarence is corrupted when his dogma takes on fascist overtones and he starts seducing cute, 14-year-old volunteers. Though often lacking in little things like basic coherency, Carey packs this volatile tale with venom toward modern politics, the media, dried-up religion, and the entire sorry state of the human race. It's even narrated by The Devil, represented by a snake! Carey is dead serious with all this craziness (even the heavily religious finale) and his outrageous direction is beyond belief! Most of the extras seem like they were simply pulled off the streets, and the score was provided by a young musician by the name of Frank Zappa. Even its theme song is hilariously unforgettable: "As a sinner he's a winner. / Honey, he's no beginner. / He's rotten to the core. / Daddy, you can't say no more. / He's the world's greatest sinner." Complete with cinematography by the great Ray Dennis Steckler (director of THE INCREDIBLY STRANGE CREATURES WHO STOPPED LIVING AND BECAME MIXED-UP ZOMBIES!!? and RAT PFINK A BOO BOO), this is a work of warped genius.

© 1994 by Steven Puchalski.