SIXTEEN [a.k.a. Like a Crow on a June Bug] (1972).
Greedy, sinful "Big City" living threatens to rip apart a rural family in this sex-laced, southern-fried cautionary tale. And if you weren't already aware that you're in for a heapin' helpin' of hicksploitation, you will after the opening minutes, as a white-trash family straight out of Dogpatch ride their horse and wagon across rural Georgia, accompanied by a folksy tune ("Like a Crow on a June Bug") full of homespun lyrics... Meet craggy old farm couple Ma (Mercedes McCambridge) and Pa Irkley (Ford Rainey), plus their three teenage young'uns -- ripe blonde tease Naomi (DEATH RACE 2000's Simone Griffeth, one year after her film debut in SWAMP GIRL), loving brother Bruvver (John Lozier) and seemingly-retarded J.C. (Buddy Foster, older brother to Jodie). They're simple folk who don't trust modern things, such as banks or automobiles; but incest obviously gets a greenlight, since Naomi and Bruvver like to skinny-dip and fondle each other down at the pond. The Irkley's also just lucked into $8,000 when some of their land is bought for a new-fangled road, and with that money comes temptation! The Irkley's use some of this windfall to visit the county fair, but when Naomi is scared shitless by a typically-crappy haunted house attraction, a dreamy motorcycle daredevil befriends this nubile 16-year-old. Meanwhile, burlesque-star Carmelita (Beverly Powers, who played a long list of on-screen strippers and showgirls, and is now a Christian minister in Maui) catches Bruvver's roving eye. When the separated siblings miss the last bus home,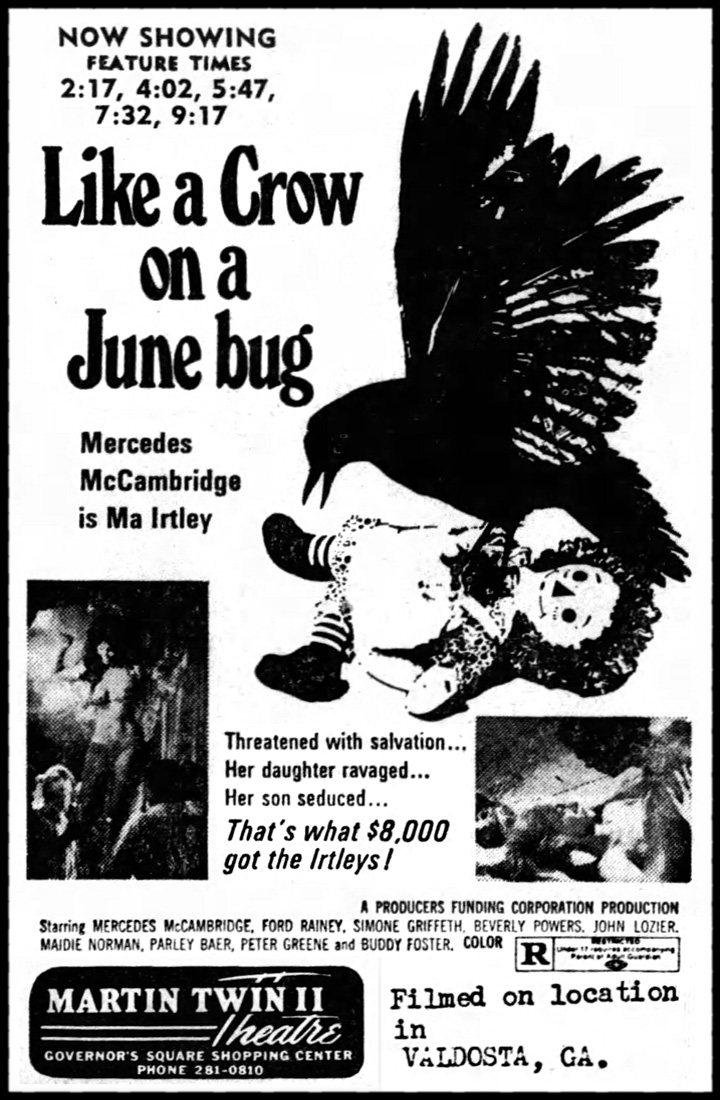 they're both preyed upon -- Carmelita gets Bruvver soused and uses the age-old "you were so drunk that you forgot we got married" con to get her hooks on his family's cash, while Naomi has her cherry popped by Mr. Biker, as the other creepy carny workers watch. Longtime TV-director Lawrence Dobkin (who worked on everything from 77 SUNSET STRIP to THE WALTONS) fills this big-screen foray with authentic locales -- the carnival midway, backwater bars and the Irtley's dirt-poor shack (that's barely a step up from Jed Clampett's Ozark cabin) -- with atmospheric photography by Vilis Lapenieks (NIGHT TIDE). In front of the camera, McCambridge makes a fine battle-ax, Griffeth perfectly plays the naive-sex-object, plus look for Parley Baer as a fire-'n'-brimstone preacher who guzzles Pa's moonshine and Maidie Norman as the Irkley's superstitious black neighbor. SIXTEEN is an entertaining little rural romp that's nearly as much fun as sucking the fat out of crawdad heads. That is, until you consider its reactionary message: "Never leave the safety of your home or attempt to experience new things. Instead, remain satisfied with being barefoot, poor and ignorant of the outside world." Realizing that viewers were supposed to cheer for these uneducated Irkley halfwits gives it all a rather depressing aftertaste.

© 2007 by Steven Puchalski.