Published between October '86 and June '89, SLIMETIME was a sickly-green newsletter that reviewed the tops in cult film dementia, arthouse weirdness, drive-in dreck, and seriously warped movies from around the world. It's all here! Sci-fi, schlock, women-in-prison, Japanese monsters, brazen gals, mindless men, kung fu mischief, flower power, and bad music!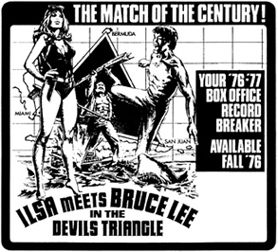 This new 384-page edition unleashes the best, funniest, nastiest, and most opinionated reviews from that '80s 'zine. Containing over 500 reviews and a trio of lengthy genre essays (Blaxploitation, Biker movies, and Hallucinogenic cinema), this fully updated & revised edition contains over 150 new reviews -- many from the first three, long-out-of-print issues of SHOCK CINEMA, and others never seen before -- in addition to numerous new illustrations.

Many of the motion pictures in SLIMETIME have never seen a major release, some were big hits, others have 'vanished'. The diverse selection of films incude THE TRIP, THE SLIME PEOPLE, I DISMEMBER MAMA, THE NIGHT OF A THOUSAND CATS, FREE GRASS, THE HITCHHIKERS, HOUSE OF WHIPCORD, BLACK SHAMPOO, CAFE FLESH, THE CREATION OF THE HUMANOIDS, THE BED SITTING ROOM, DESTROY ALL MONSTERS, ALICE IN ACIDLAND, SATAN'S CHEERLEADERS, SCREAMING MIMI, TOUGH GUYS DON'T DANCE, WHERE THE BUFFALO ROAM, BLOOD HARVEST, SUGAR HILL AND HER ZOMBIE HIT MEN, THE GARBAGE PAIL KIDS MOVIE, BLACK DEVIL DOLL FROM HELL, THE LOVE-INS, MYRA BRECKINRIDGE, TENDER LOVING CARE, THE PASSOVER PLOT, THE MYSTERIANS, THE BEAST OF YUCCA FLATS, CONFESSIONS OF AN OPIUM EATER, THE LAST MOVIE, THE CLONES OF BRUCE LEE, KISS MEETS THE PHANTOM OF THE PARK, THREE ON A MEATHOOK, ZAPPED!, CRIMES OF THE FUTURE, and hundreds more! All this and more will soon be available in a gorgeous book you'll be proud to keep on your bar or next to your toilet.