THE SPORTING CLUB (1971; Just for the Hell of It).
Before director Larry Peerce's stock nosedived after '80s fiascoes like Rick Springfield's HARD TO HOLD and the John Belushi bio-pic WIRED, he spent much of his early career adapting such acclaimed works as Philip Roth's Goodbye, Columbus, John Knowles' A Separate Peace and Sylvia Plath's The Bell Jar, as well as this curiously caustic vision of wealthy, self-entitled White Elitism, based on Thomas McGuane's 1969 debut novel. Scripted by Lorenzo Semple, Jr. (PRETTY POISON), who'd earlier worked with Peerce on the '60s BATMAN show, it ultimately suffered from a confusing promotional campaign, predictably brief theatrical run and undeservedly hostile critical reaction... Located in the remote Northern Michigan countryside, The Centennial Club is an exclusive sporting lodge for wealthy white members, and mild-mannered businessman James Quinn (soap opera regular Nicolas Coster) has arrived just in time for their 100-year celebration and the opening of a time capsule. Quinn's old Harvard roommate and longtime rival, Vernur Stanton (Robert Fields), is also the club's most aggravating member -- playing sadistic games in his private 'dueling gallery,' gleefully flaunting every social rule (such as mooning a motorcade for President Nixon) and dragging pretty lover Janey (Maggie Blye) along for the fun. As the place fills up with men and women, both young and extremely old, there's hunting, singing tunes from the good ol' days, drinking to excess in the evening, hypocritically attending church service while hungover the next morning, and proudly upholding their fore-fathers' traditions. Meanwhile, Vernur continually pushes people to their limits,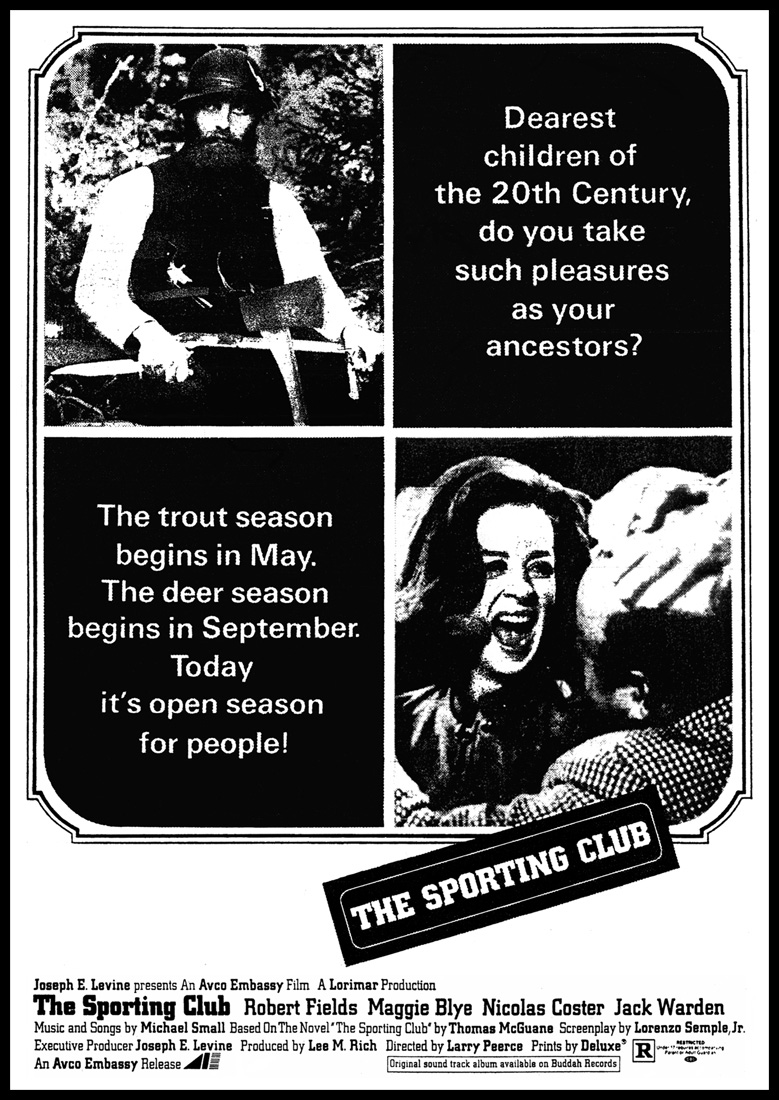 as his batshit-crazy obsession with literally destroying this club snowballs. Jack Warden also shakes things up as the facility's new manager Earl Olive, a grass-tokin' cajun who leaves the stodgier clubmembers aghast by hosting rowdy barbeques for his outlaw biker buddies. Terrified that their sheltered world is being destroyed, the indignant club members arm themselves and prepare for war, convinced that "the barbarians are at the gates," only to end with one final, fabulously sick joke when their time capsule is unearthed, the truth about their revered founders is revealed and an altogether grotesque orgy ensues... Fields plays Vernur with a smug cockiness that's hypnotically repugnant, with James Noble (BENSON's Governor Gatling), Logan Ramsey and L.A. LAW's Richard Dysart as fellow members, Ralph Waite as the club's ornery gamekeeper and lovely Jo Ann Harris (the same year she starred in one of NBC's failed pilots for a CAT BALLOU series) getting topless as a hippie cleaning lady. 11-year-old Linda Blair can also be spotted briefly in an early party scene. It's no surprise that the film wasn't warmly embraced, since this is unflinching, explosively divisive material -- a battle between generations; a glimpse into twisted, unchecked masculinity; but primarily, a darkly satirical take on the rampant id of privileged white America (which seems even more relevant today than when first made), with characters so swaddled in their patriotism, religion and antiquated traditions that they don't realize just how pathetically foolish they actually appear.

© 2017 by Steven Puchalski.