STOP CALLING ME BABY! [Moi, Fleur Bleue] (1977).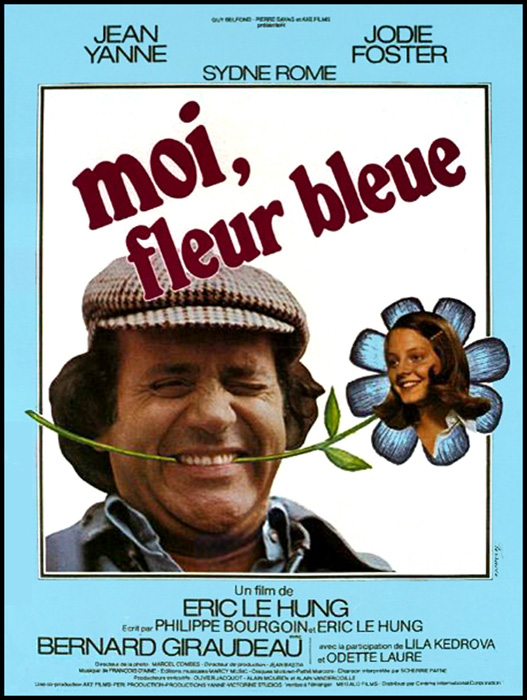 If you weren't already aware, I love to stumble across some current superstar in one of their early, on-screen embarrassments. This French jailbait drama is a prime candidate -- a little-known dollop of EuroTrash top-billed by a 15-year-old Jodie Foster. Filmed in both French and English (this print is the later), its only amusement comes from Foster's role as a schoolgirl named Isabelle (nicknamed Rosebud), who yearns to have an experienced man pop her cherry. Obviously, this gig doesn't go high on her resume nowadays. Living with older sis, Sophie (Sydne Rome), is no help either, since this fashion model loves to screw and has half-naked posters of herself throughout the apartment. But their life gets weird when a truck driver named Max (Jean Yanne) becomes so obsessed with Sophie that he hires a detective to track her down, with this blue-collar buffoon then trying to prove he's worthy of her desires. Of course, since this is a French film, the lovely model instantly drops into bed with this creep. This only makes Isabelle both resentful and flirtatious to Max, particularly after he moves in with the sisters. Director Eric Le Hung continues on a serious route, with Isabelle seducing Max's (much-older) detective, ending with a chaste morning-after in bed (and the covers conveniently pulled up to Isabelle's neck). But the shit really hits the fan when Isabelle idiotically recounts her sexual scenario in front of her
entire classroom. Dull, oddly-romantic, and only fitfully sleazy, this mediocre coming-of-age yawn would be long-forgotten if not for Foster. It's definitely her show, as she manipulates every situation and dreams of someday becoming a great lover, known around the globe. While Foster avoids any embarrassing sexual moments (she's felt up, but it's over her shirt), she's less fortunate in the music department, since she actually sings portions of the grating, oft-repeated tune "When I Looked At Your Face." One final note: In light of today's sexual Puritanism, it's enlightening to watch how nonchalantly the film embraces this consummated relationship between an adult guy and a 15-year-old girl. If made in the US today, it'd never see the light of day.

© 1999 by Steven Puchalski.