THE STORY OF MANKIND (1957).
Long considered one of the most misguided Hollywood epics of all time, this belabored all-star fantasy actually exceeds its rotten-reputation. Colorful and idiotic, it's a one-of-a-kind fiasco, yet what other movie is going to combine Vincent Price, Dennis Hopper and The Marx Brothers?! Directed by Irwin Allen, years before he became the disaster-blockbuster king with THE TOWERING INFERNO and THE POSEIDON ADVENTURE, this project is his biggest disaster of 'em all. When mankind announces the invention of the "Super H-Bomb," Heaven convenes an outer space tribunal (atop a cloud, of course) to figure out if the human race is worth saving. Taking the side of us lowly homo sapiens is Ronald Colman as "The Spirit of Man," while the devilish "Mr. Scratch" (dapper Vincent Price) argues that we should all be allowed to blow ourselves to Hell. To state their opposing cases, Price and Colman wander throughout history, demonstrating the pros and cons of mankind, as this framework unleashes a torrent of embarrassed supporting actors. Amidst moments by Helen of Troy, Moses, Marie Antoinette, and DeVinci, we also get John Carradine as an Egyptian pharaoh, Virginia Mayo playing Cleopatra with all the subtlety of Bettie Page in front of the Camera Club, and drunken Nero (Peter Lorre!) hosting a depraved, bongo-fueled interpretive dance. Forty-something Hedy Lamarr turns up as the teenaged Joan of Arc, Cesar Romero is a Spaniard visiting Queen Elizabeth (Agnes Moorehead),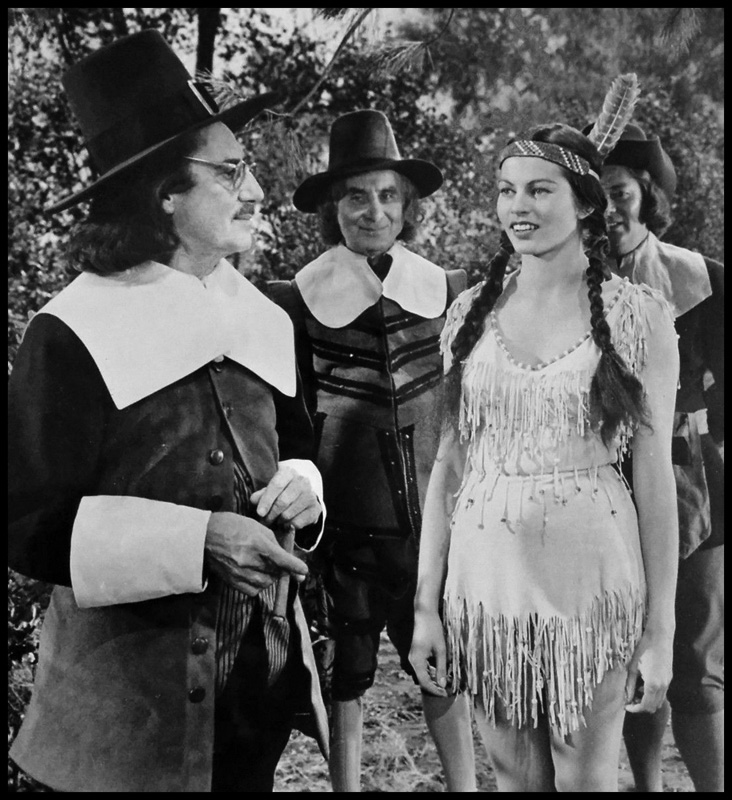 awhile a way-too-intense Dennis Hopper is a method-acting Napoleon. As for the Marx's, Chico plays a naysayer to Columbus' voyage, Harpo is a harp-playing Sir Isaac Newton; and (in the movie's only legitimately amusing sequence) Groucho is a wisecracking pilgrim who buys Manhattan from the Indians. Of course, those are only the biggest names who were corralled into this nightmare, which leads all the way up to WWII and the atomic bomb. Thinly based on Hendrik Willem Von Loon's once-remembered volume, this crams all of human history into a wretchedly-acted, 100-minutes-long Cliff Notes. Awash with mismatched stock footage, backdrops that look like were loaned-out by a high school drama pageant, and a cop-out finale, its only saving grace is the teaming of Colman and Price, who have a solid rapport. Laced with dull, moralistic soliloquies (usually be Colman, explaining how good and noble we can be), you get the feeling Irwin actually believed this claptrap. Of course, there's one thing Allen didn't expect -- as Price points out the worst moments of human history (the Salem Witch Trials, slavery, genocide, assassination), he makes the better argument of the two, and ultimately had me agreeing that mankind sucks.

© 1999 by Steven Puchalski.