SYLVIA (1965).
Armed with a terrific supporting cast and BABY DOLL's Carroll Baker continuing her monopoly on damaged temptresses, this provocative melodrama certainly comes with excellent credentials. The script by Sydney Boehm (THE BIG HEAT) was based on a book by E.V. Cunningham (a.k.a. blacklisted writer Howard Fast, who penned the novel Spartacus), quadruple-Oscar-winner Joseph Ruttenberg (MRS. MINIVER) provides the black-and-white cinematography and director Gordon Douglas' resume is packed with oddities, including VIVA KNIEVEL!, SKULLDUGGERY and SLAUGHTER'S BIG RIP-OFF. But while SYLVIA's subject matter might've been somewhat controversial for its time period, the end result is all talk, no actual sleaze and weighed down by misguided self-importance... Los Angeles private eye Alan Macklin (George Maharis) is hired by a suspicious millionaire (Peter Lawford, taking a brief Rat Pack hiatus) to secretly investigate the background of his lovely young fiancee, Sylvia West, before they're wed. As Macklin crisscrosses the country and quizzes old acquaintances, he slowly unveils her sad and sordid past -- with Baker playing Sylvia as an adult, as well in flashbacks as a naive teen. Viveca Lindfors' spinster librarian takes Macklin to the tenement of Sylvia's youth, where she was raped by her stepdad (greasy, drunken Aldo Ray). A trip to Mexico exposes her stint as a whore, with Manuel Padilla (TARZAN's TV-jungle-boy Jai) as a helpful tyke. Plus there's Edmond O'Brien as a lovesick sugar daddy who got Sylvia to New York City; Paul Gilbert's crossdressing madam hired this doll to turn tricks; Lloyd Bochner is a wealthy sicko who brutalized Sylvia and became an extortion victim; and Ann Sothern amusingly overplays her part as a floozy ex-roommate. A pre-'Nurse Chapel' Majel Barrett even turns up as a bookstore owner. In the end, Macklin becomes obsessed with this abused, unloved girl who'd do anything to claw her way up in the world -- educating herself, selling her body, using assumed names, and ultimately hooking a rich dude --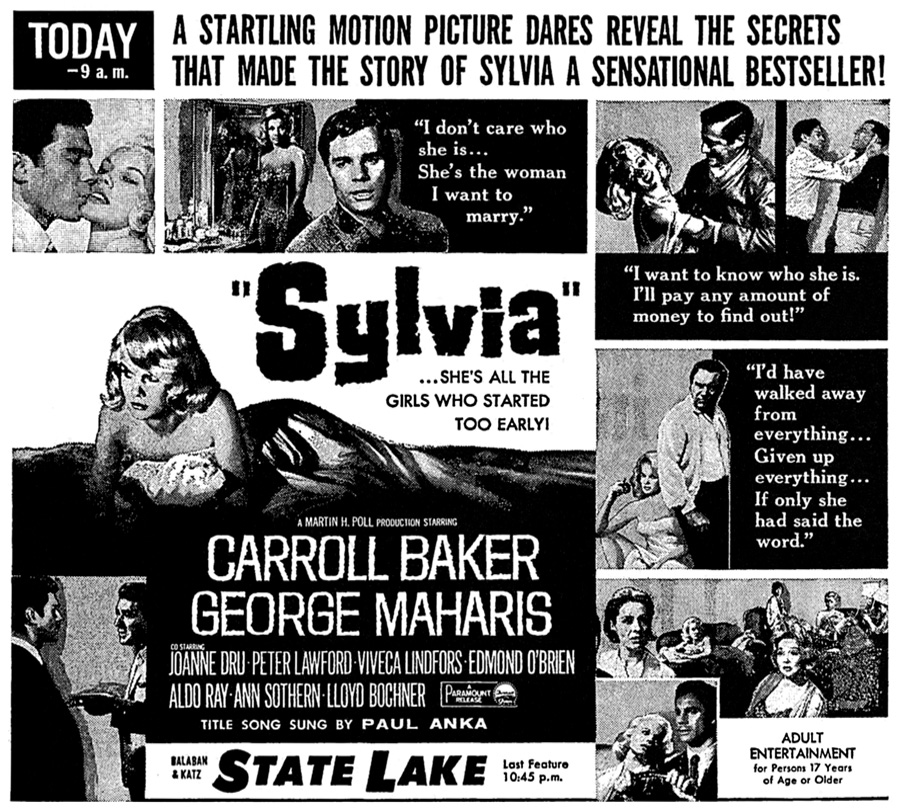 and it's only in the final half-hour that he finally meets Sylvia face-to-face, which leads to additional convoluted drama.... Maharis became a television heartthrob in the early-1960s as ROUTE 66's Buzz Murdock, but his career began to sputter following a pair of vice cop arrests -- one on suspicion of lewd conduct at a Hollywood drive-in restaurant (December 1967) and another for "sexual perversion" with a male hairdresser inside a staked-out gas station restroom (November 1974) -- and his performance here is remarkably stiff (perhaps it's due to the fact that Macklin ends up a big fucking dope?). The same goes for Baker, who's merely passable in a complex role that required far more nuance. At 115 minutes, Macklin's overlong trek is tedious, its watered-down mystery too often wimps out and, once Sylvia's shocking past is uncovered, all subtlety takes a hike. Paul Anka croons the title tune.

© 2010 by Steven Puchalski.