TALK OF THE TOWN (1982; Just For the Hell Of It).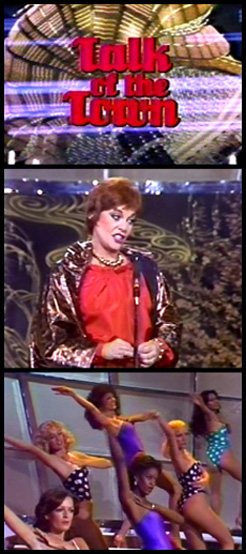 Years before Las Vegas was transformed into a super-sized, adult theme park (with whores), the Strip was a seedy destination for gamblers, lovers and audiences willing to sit through the most insufferable lounge acts. With her fleeting GONG SHOW panelist fame on the decline, it's no surprise that bawdy Jaye P. Morgan would sign onto this bizarre blast from Vegas' coked-up past. All she had to do was host an uncensored, on-stage talk show at the low-roller Imperial Palace Hotel and Casino, complete with a live audience, furniture dragged in from the lobby and a guest-list culled from old-school stand-ups, Jaye's famous pals and a few fascinating additions. This two-hour, two-episode disc will test the fortitude of all but the most steadfast kitsch-addicts. The unintentional laughs kick in early, since Morgan's make-up looks like it was applied by Dr. Frank-N-Furter and her wardrobe is from Sears' short-lived CrackWhore line. Her first show has comedian Pat Cooper talking about S&M and drag; The Unknown Comic [a.k.a. Murray Langston] spouting his raunchiest jokes ("Why is pubic hair curly? So you don't poke your eyes out!") and discarding his brown-paper-bag for the Q&A; Rip Taylor showing up unannounced, looking fat, sunburnt, sweaty, and on the verge of an aneurysm; and Linda Blair (at a post-ROLLER BOOGIE, pre-CHAINED HEAT turning point in her career) attempting to get a word in edgewise. Best of all, she's followed by porn-starlet Samantha Fox (at the time, singing in the Sahara's cocktail lounge!), who happily discusses stripping and past arrests, and answers curious Jaye's questions about porn-flick penetration. The second episode is aimed more at (badly) aging comics, with Cooper again as her sidekick. Guests include Jack Carter (bitching about Buddy Hackett), Larry Storch (discussing Pia Zadora, Telly Savalas and his pathetic gig in THE HAPPY HOOKER GOES TO WASHINGTON), plus the taboo-busting Rusty Warren, whose raunchy 'party albums' made her one of the '60s first sexually-explicit comediennes. But it's Redd Foxx who makes the biggest impression during his brief stint on Jaye's cheap-ass set. Also, let's not forget about the show's heavy cheesecake factor, since each episode opens with a wretched dance routine performed by swimsuited showgirls and later features a trashy-lingerie "fashion show" courtesy of Vegas' Midnight Lace boutique. This might not seem too racy nowadays, but don't forget this was 25 years ago, when the most suggestive a network talk show could get was Art Fern's TONIGHT SHOW double-entendres to buxom Carol Wayne. Directed by Doug Raymond and produced Stan Lipton, TALK OF THE TOWN was one of the last nails in Jaye P. Morgan's showbiz coffin, and although sitting through two full hours of this crude, unscripted comic chaos in one long dose is exhausting, it's also painfully unforgettable.

© 2007 by Steven Puchalski.