THE TENTH LEVEL (1976).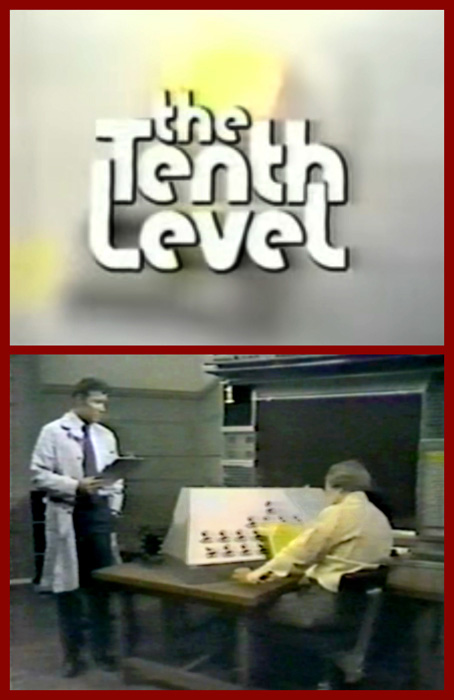 Throughout the 1970s, William Shatner starred in some of the strangest, most memorable made-for-TV movies of all time -- GO ASK ALICE, PRAY FOR THE WILDCATS, THE PEOPLE, SOLE SURVIVOR -- and this obscure CBS telefilm was one of his most intense and most controversial. In fact, the nervous network postponed it twice (from December 1975, to April, then ultimately premiering it in the dregs of late-August, slapped with a "mature theme" disclaimer!). Its fictional story was loosely based on social psychologist Stanley Milgram's '60s "Obedience" experiments, but this serious, thought-provoking subject matter is continually undermined by several factors: (1) the film looks like shit, due to sub-par production values and being shot on cheap-ass videotape, (2) it proudly wallows in its own self-importance, and (3) it stars one of the most unrestrained-windbag actors of our era. Shatner stars as Stephen Turner, an unorthodox college professor who's studying humankind's blind obedience to authority figures (particularly in Nazi Germany) and is soon putting the screws to unsuspecting volunteers in his campus lab. He's concocted a two-person experiment, involving a "teacher" and a "learner" -- one will give the other increasingly-potent electric shocks whenever a question is answered incorrectly -- as Turner and his callous colleagues take notes. Some of his subjects decline, others crack under pressure, many allow the shocks to reach the most dangerous '10th Level', but it isn't until an easygoing handyman (GALAXINA's Stephen Macht) has a violent, psychedelic freak-out during the test that Turner winds up in hot water. Shatner starts off nicely low-key,
but shifts into his typical self-centered blowhard routine once Turner's 'quest for knowledge' careens out of control. The plodding final half-hour involves a college inquiry into his cruel work, with volunteers testifying to their emotional damage and ass-hat Turner justifying his actions through long, wooden, ultra-dramatic speeches. Written by George Bellak (a veteran of the Golden Age of live-TV, including PLAYHOUSE 90) and directed by Charles S. Dubin (whose TV-work ranged from episodes of M*A*S*H to Rodgers & Hammerstein's CINDERELLA), clunky personal melodrama continually intrudes on its core themes, and although Milgram was a consultant, he apparently disliked the final outcome (undoubtedly because wimpy Turner regrets his actions by the end). The supporting cast includes Lynn Carlin (FACES, TAKING OFF) as Turner's ex-wife, Ossie Davis as a fellow prof, Estelle Parsons on the investigative panel, and future Mrs. David Mamet, Lindsay Crouse, making her television-debut as a pretty lab assistant. Amongst the volunteers you'll find Viveca Lindfors as a traumatized Jewish woman, jovial character actor Charles White as one of the first guinea pigs, plus Mike Kellin (MIDNIGHT EXPRESS) and Damon Evans (Lionel on THE JEFFERSONS, circa '75-'77) displaying the most backbone by flat-out refusing the experiment. Though severely flawed, it's still fascinating.

© 2008 by Steven Puchalski.