THE TWONKY (1953).
Some movies, no matter how asinine, hold a nostalgic charm from when you first viewed them as a child. And you hope that decades later, when you see them again through more discerning, adult eyes, they don't end up completely sucking. Though THE TWONKY is no masterwork, it features a brilliant story idea, a wonderful lead actor, and tons of adolescent-level stupidity. B-movie fluff starring everyone's favorite weaselly character actor, Hans Conried (THE 5,000 FINGERS OF DR. T) and an evil new mind-controlling abomination called a Television!... Directed by radio producer Arch Oboler (who obviously had no great love for the then-new-fangled medium of TV), it's the tale of college philosophy professor Conried and how his staid lifestyle is turned inside out when a television is delivered to his home. The set has some very unique features, such as how it doesn't need to be plugged in, hilariously hobbles around on its wooden feet, and emits a magical beam which can (1) light cigarettes, (2) create five dollar bills, or (3) hypnotize the police. Nicknamed a "twonky" (something you can't explain) by an alcoholic neighbor, Conried slowly goes mad (in his own inimitable fashion) as the TV wiggles its antennae and creates havoc. Underlying all this foolishness are several not-so-subtle barbs about the loss of free will and the suspicion that the TV will end up ruling people's lives. For whenever Hans begins thinking about individualism and personal freedom, a little Twonky electroshock sets him straight, and all its hypnotized victims flatly utter "I have no complaints." When the college football team is recruited to destroy the Twonky, they too are turned into glassy-eyed zombies (not a big change, I admit). Eventually, the cops come after Hans for running a bordello,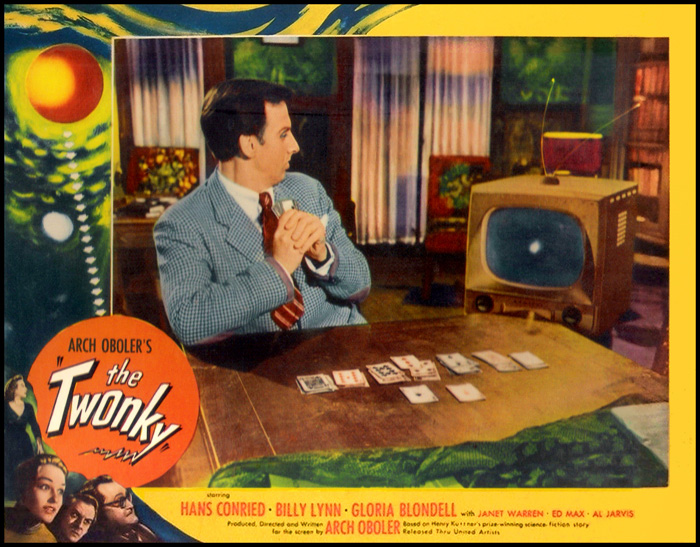 the feds for counterfeiting, and the film critics for outrageous overacting. While we learn that the Twonky is actually a futuristic servant, lost in time. The best parts of the film have Conried gloriously spazzing out and basted in booze, and the image of that damned television walking around is like some fragment from a comic mescaline hallucination. Completely overlooked when first released, this is an amiable comic fantasy with prescient paranoid elements.

© 1993 by Steven Puchalski.