VIVA KNIEVEL! (1977).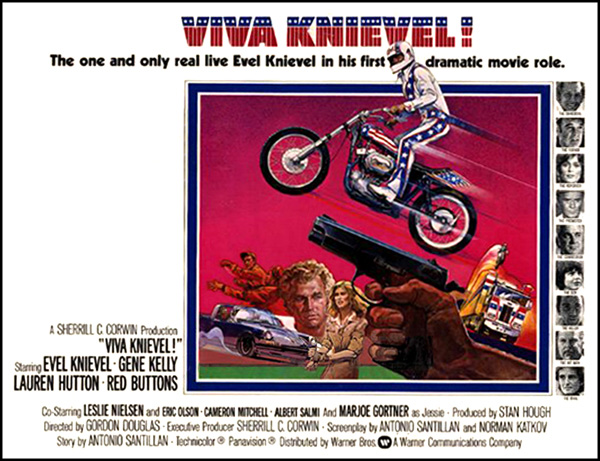 No question, this is one of the most hilarious, festering sores ever committed to celluloid, starting with red, white and blue credits, and a theme song that'll burn a path to your brainpan ("One fine day, a man came to town, / A king of the road, with a helmet for a crown, / A motorcycle bird who is never comin' down.") Now them's lyrics! As an actor, Evel is so leaden that he can't even play himself convincingly, while the script makes this daredevil out to be a combination of John Wayne, Mother Teresa and Jesus Christ -- all rolled up into one self-promoting ass on a motorcycle. In fact, everybody on the planet adores Evel: The young, the old, women, nuns, crippled orphans who're inspired to throw away his crutches ("You're the reason I'm walking, Evel!"), and most importantly, Warner Brothers, who footed the bill for this one-legged dog. Next, check out the obviously-pained supporting cast! Lauren Hutton is a tough-talking photographer who falls for this star-spangled dip; Red Buttons is Evel's money-grubbing promoter; Marjoe Gortner is Knievel's main competition, back on a bike after PRAY FOR THE WILDCATS; Leslie Nielsen is Gortner's scummy manager; Cameron Mitchell plays one of Nielsen's flunkies; Dabney Coleman pops up as the head of a sanitarium; and Frank Gifford (a.k.a. Mr. Kathy Lee) is himself, covering Evel's jumps. Best of all, Gene Kelly co-stars as Evel's booze-hound mechanic (not to mention, best friend), with poor decrepit Gene (who was 65 years old at the time) reunited with his estranged 11-year-old son (Eric "Apple's Way" Olsen). As far as the screenplay is concerned,
this guy is a fucking God! He even sneaks into orphanages in the middle of the night to hand out toys (Evel Knievel dolls, of course), lectures kids on the evils of drugs, and explains "I'm just a man doing my own thing." The plot has Evel going to Mexico with Nielsen & Gortner, unaware they're planning to knock him off and use his 18-wheel trailer to smuggle 3,000 bags of cocaine over the border. Best of all, Gene goes nuts, gets locked up in a padded cell and is accused of being a "dope addict." It even comes complete with a do-gooder, pro-family, anti-drug finale. I feel sick... The best you can say about director Gordon Douglas (THEM!, SLAUGHTER'S BIG RIP-OFF), is that he combines the wooden melodrama of an Irwin Allen clinker with the stench of fresh roadkill. This is the type of career-shattering debacle that has to be cherished. And if there was any justice, the studio exec who greenlighted this sewage is, at this very moment, being awarded Employee of the Month at Denny's

© 1996 by Steven Puchalski.