WACKY TAXI [a.k.a. Pepper and his Wacky Taxi] (1972).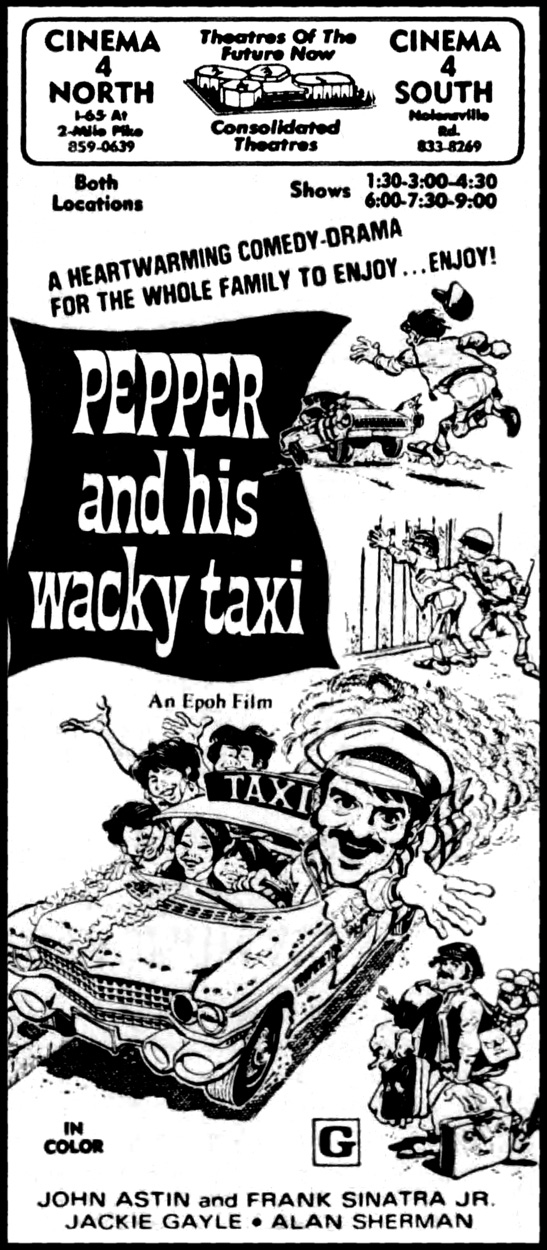 I know what you're wondering. Why the hell am I reviewing a warmhearted, G-rated family film in SHOCK CINEMA? Because it stars John Astin, one of my all-time favorite celebs in one of his most punishingly awful movies. Written and directed by Alex Grasshoff, the poster promises a rollicking "comedy-drama," but the laughs are MIA, while its overall message is "If you dream big, anything is possible." A more practical one would've been, "Don't have so many goddamn kids if you're broke and stupid." Astin plays Pepe "Pepper" Morales, a Mexican-American who's struggling to support his four children and pregnant wife Maria (Maria Pohji). Always brimming with half-baked get-rich schemes, Pepper abruptly walks out of his stable-but-boring blue collar "slave" job at an aluminum can company and decides to start his own one-man taxi service. He squanders his family's savings on a dilapidated old '59 Cadillac, hand-letters 'Taxi' on its door, and is soon driving about San Diego, looking for fares and having decidedly-unwacky encounters, such as stuffing his car with servicemen on shore leave and taking a distressed "lady Marine" to Tijuana for an (unmentioned) abortion. The guy can't catch a break though, whether it's constant car problems, competition from legit yellow-cab operators or difficult passengers. Plus there's brother-in-law Jaimie (Ralph James), a 4th-rate attorney who's continually worrying about how this illegal taxi business lacks any permits, inspections or insurance. Nevertheless, Pepper remains eternally, annoyingly optimistic, amidst fantasies of becoming the cab-world's Richard Branson, with a fleet of taxis and specialty foods. All of this is extraordinarily dull, and the script's idea of excitement is when Pepper's beloved taxi is stolen, he's tossed into jail for breaking into people's garages during his frantic search, goes on a lengthy bender, and attacks some innocent guy (Frank Sinatra Jr.!) in his home -- hey,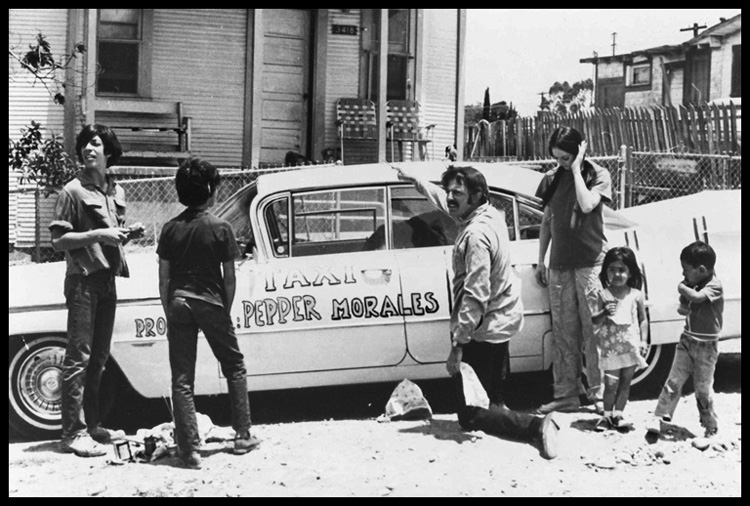 that's my idea of G-rated fun for all ages! Astin tackles this unbelievably naive role with such total earnestness, you'd think he was already making plans for his evening at the Oscars. The only vaguely amusing sequence features a neurotic fare (comic-lyricist Allan Sherman, of "Hello Muddah, Hello Faddah" fame) who stuffs his face, gives incorrect directions (hence, their detour through a high-rise parking garage) and is running late for the airport. This creatively threadbare project also boasts sub-par TV-level production values, saccharine soundtrack tunes by jazz great Willie Ruff, plus a preposterously upbeat epilogue that proves even the most delusional, obstinate fuck-up can succeed. And if you fail, you must be an even bigger loser than Pepper. Isn't that a lovely lesson to teach kids?

© 2008 by Steven Puchalski.