WORLD ON A WIRE [Welt am Draht] (1973).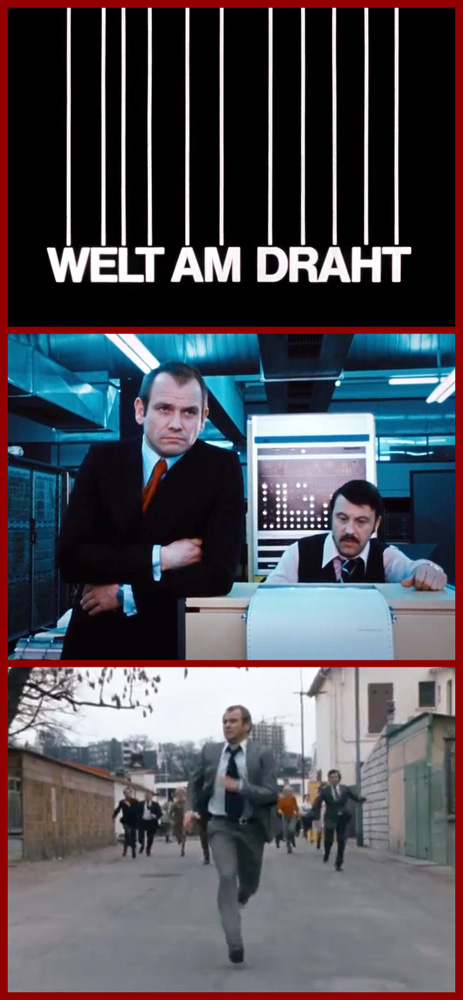 Made for German television, this 3-1/4 hour science-fiction mystery was a somewhat unusual project for the prolific Rainer Werner Fassbinder (who directed three to four films per year throughout the early-'70s), but he capably pulls it off while filling the large cast with members of his regular acting troupe. Based on the 1964 novel SIMULACRON 3 by Daniel Galouye (which was later adapted into 1999's THE THIRTEENTH FLOOR), the project was far ahead of its time, although some of the story's 'revelations' seem a bit tame nowadays in the wake of cyber-knock-offs such as THE MATRIX... The story revolves around the Simulakron, a new generation of super-computer that contains a virtual world populated by 10,000 human "identity units" who don't realize they're living inside a mainframe. While working on this groundbreaking project, Prof. Vollmer (MARK OF THE DEVIL actor-producer Adrian Hoven) uncovers a startling secret that leads to his suicide. Or was it murder? Dr. Fred Stiller (Klaus Lowitsch) takes Vollmer's place as director of this high-tech undertaking, but things get weird when the department's head of security suddenly disappears before his eyes. Poof! And now no one else seems to have any memory of this vanished colleague! As Stiller becomes increasingly suspicious about this cybernetic Institute, he even pays a visit to the Simulakron's virtual world -- just lean back, slip on a '60s space helmet with a bunch of wires sticking out of it, and in you go -- but the trip only leaves him more confused. By the story's midpoint, Stiller receives a blistering dose of the truth, his sanity is questioned, the police suspect the poor guy of murder, and he's on the run for the final half-hour... Lowitsch (THE MARRIAGE OF MARIA BRAUN, plus supporting roles in CROSS OF IRON and FIREFOX) is quite effective as a brilliant man on a desperate quest for the truth, with solid support from Gunther Lamprecht (BERLIN ALEXANDERPLATZ) as a computer technician; actor-turned-lousy-horror-director Ulli Lommel plays a journalist investigating the Institute; Margit Carstensen (THE BITTER TEARS OF PETRA VON KANT) is Stiller's ex-secretary; Barbara Valentin is his new secretary, a Russ Meyer-esque sex-bomb responsible for Stiller's only upbeat scenes; and chrome-domed Kurt Raab is an agent for Big Business. Fassbinder's longtime lover El Hedi Ben Saem (ALI: FEAR EATS THE SOUL) can be spotted as a bodyguard and Eddie Constantine makes a cameo. The production has a vaguely futuristic look, thanks to mod-ish furniture,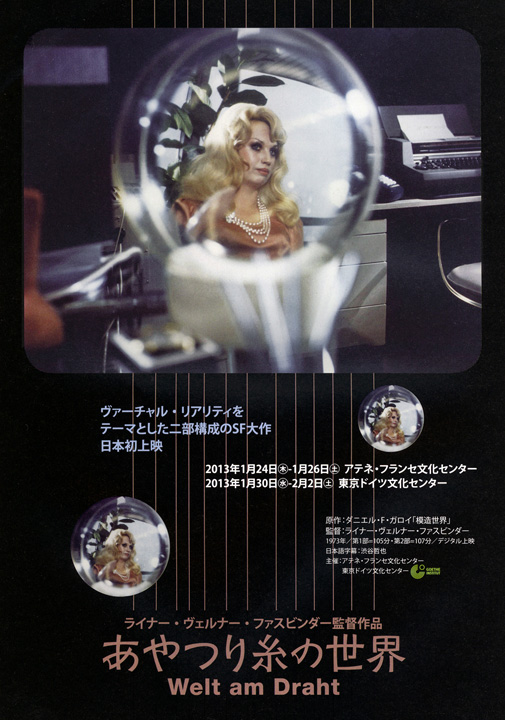 but its technical trappings are quaintly crude (e.g. the 'real' world views the goings-on in the Simulakron world on 19" TV screens). Meanwhile, the dizzying cinematography by Michael Ballhaus (GOODFELLAS) makes extensive use of mirrors, glass and disorienting perspectives. There's also the occasional "What the fuck?" moment, like Stiller's visit to a cinema-cabaret where a Marlene Dietrich wannabe warbles "Lili Marleen" and the cook is a shirtless black muscleman. Sprinkled with conspiracies, altered personalities and the possibility of love in the face of simulated reality, WORLD ON A WIRE is paranoia-inducing headtrip that proves Fassbinder could bring his unique spin to any cinematic genre.

© 2007 by Steven Puchalski.