"Some of the best
bizarre film commentary
going... with sharp, no-nonsense verdicts."
- Manohla Dargis,
The Village Voice

"One of the few
review zines you
can actually read
and learn from...
You need this."
- Joe Bob Briggs

"Whenever you
see a film critic,
pick up a brick and throw it at him...
No great damage
can be done
to his head."
- Jonas Mekas
Need additional
information?
E-mail us at:
ShockCin@aol.com
YOUTH TERROR: THE VIEW FROM BEHIND THE GUN (1978) / LEFTY - ERINNERUNG AN EINEN TOTEN IN BROOKLYN [Lefty: Memories of a Dead One in Brooklyn] (1978).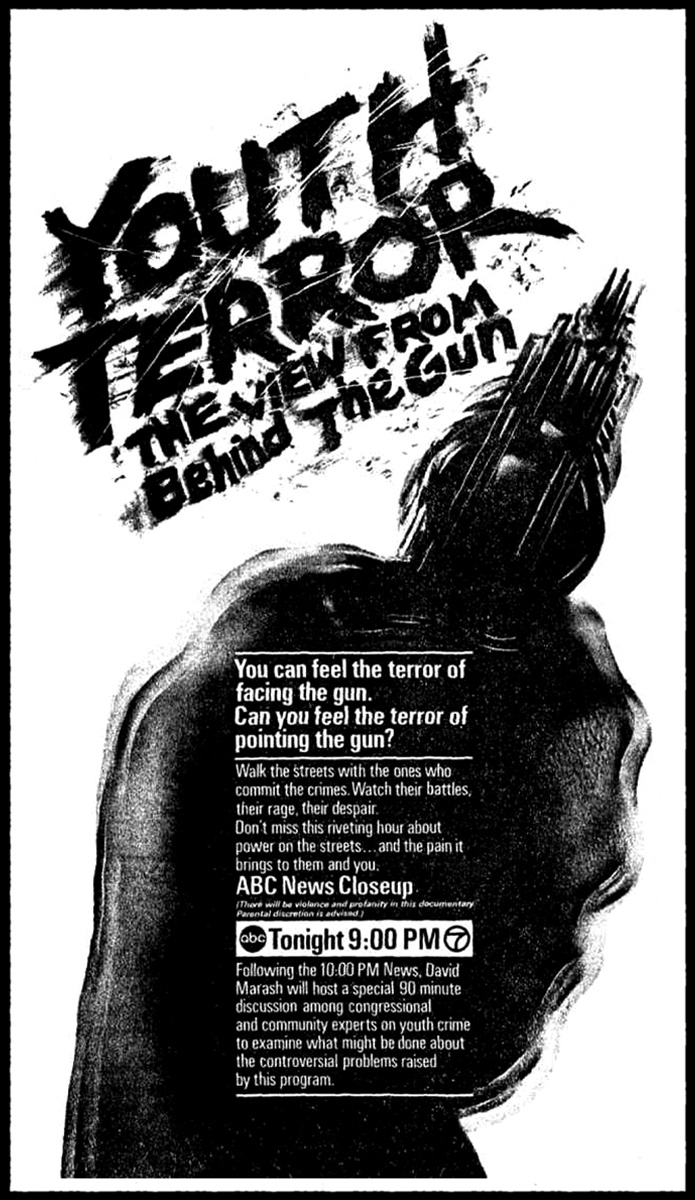 No question, New York City was a shithole during the late-'70s, with the Big Apple on the verge of bankruptcy and the South Bronx labeled the murder, rape, robbery, and aggravated assault capital of America. These two gritty made-for-TV documentaries tackled the problem of youth crime and life in this huge, screwed-up city in their own unique fashions, while capturing plenty of unforgettable images.

Even before the hour-long ABC NEWS "CLOSE UP" episode entitled YOUTH TERROR: THE VIEW FROM BEHIND THE GUN was broadcast on June 28, 1978, this stark portrait of urban crime attracted controversy. Its unflinching subject matter and candid remarks -- not to mention, the unbleeped profanity -- was a ballsy move for network prime time, and several affiliates were so skittish that they bumped the 10 p.m. program to 11:30. Others preempted it altogether. Afterwards, more close-minded viewers publicly bitched about why it was even necessary to broadcast this sorta stuff on TV... Filmed over a nine-month period, throughout the winter of 1977-78, award-winning director-producer Helen Whitney (who helmed numerous programs for ABC and PBS) mostly lets her footage do the talking, kicking off with an exploration of teens living on the streets of a barely-recognizable Williamsburg, Brooklyn.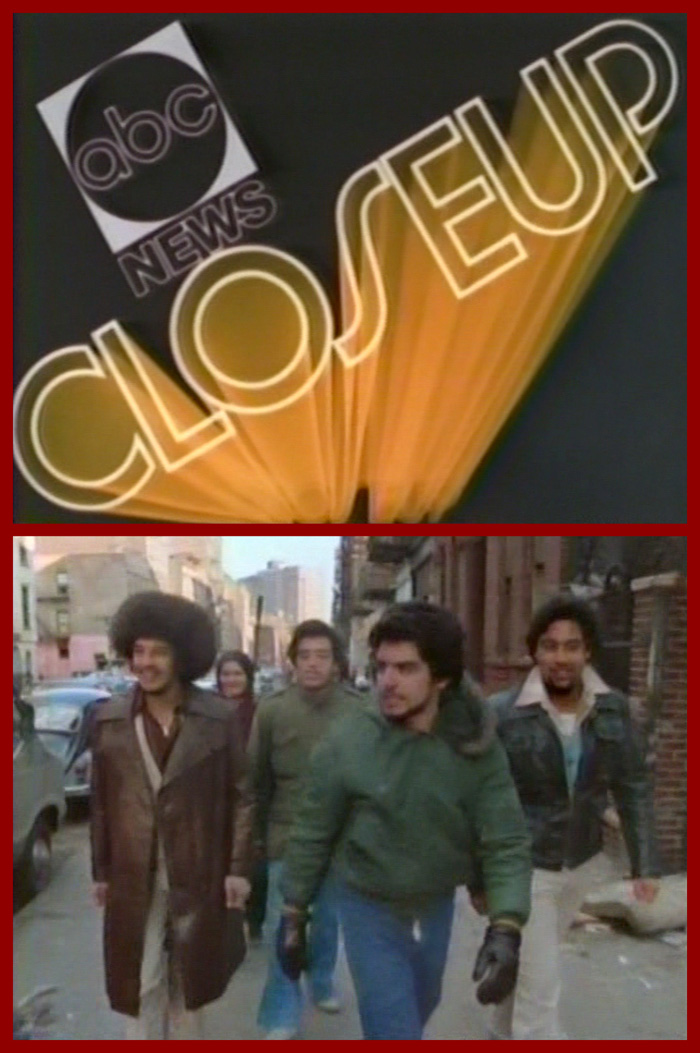 It's an amazing time capsule of graffiti-covered subway cars, blocks of burnt-out buildings, junkies huddled around a flaming trashcan, and gangs like 'The Dirty Ones' roaming their turf, with one guy recalling an abusive family life that he perpetuated by joining a gang and "breakin' heads." A Phoenix House youth counselor also raps with his kids about their criminal behavior, but Whitney mostly sticks to these mean streets, crisscrossing the region in hopes of examining the rise in youth crime and its causes (the inequality of justice, drugs, poverty, a general lack of hope), as people do whatever it takes to survive or feed their family. Later on, Whitney crosses the Hudson to New Jersey and visits a typical tenement -- no hot water, an electric hot plate as the only source of heat, the front door hanging off its hinges, an overworked mother and M.I.A. father, plus kids who believe the only way to get ahead is to steal. Then it's onto a South Bronx classroom and finally prison, with its juvenile offenders' ambivalence about their fate providing a depressing epilogue. Although a little preachy at times, saddled with an obvious social agenda and occasionally perpetuating the very worst stereotypes (like a black woman's teeny apartment crammed with fatherless children), it's also sprinkled with grim footage that probably blew the minds of complacent, middle-class, white couch potatoes.

A German film crew for station NDR [Norddeutscher Rundfunk] picked the perfect time to visit New York City for their street gang documentary, LEFTY - ERINNERUNG AN EINEN TOTEN IN BROOKLYN, as the area sweltered through a brutal summer heatwave and the infamous 1977 blackout. For five weeks, director Max H. Rehbein and his crew actually lived in the basement of a Brooklyn house owned by the parents of 'Brother Lou' [Louie Morales], the leader of 'The Sex Boys' (named after the street they hung out on, Essex -- after dropping the first two letters), filming many of that gang's most private moments and digging even deeper than the aforementioned ABC special. Unfortunately, the print's narration is in unsubtitled German, but their footage alone makes this an astonishing, 88-minute artifact... 'Lefty' [Charles 'Carlos' Valentine] is the latest 'Sex Boys' casualty, first glimpsed in the Kings County morgue after being stabbed to death near Greenpoint's McCarren Pool.
Tempers within the gang are running hot, with Lou trying to keep his soldiers under control. The filmmakers follow them as they strut past razed buildings in their gang colors, leap subway turnstiles, convene a rooftop gang meeting, share brews and joints, perform some general vandalism, and celebrate Lefty's truncated life with street fireworks. That's intercut with Sgt. Frank Santangelo, from the 75th Precinct's youth gang task force, as he patrols the neighborhood, attempts to 'rap' with gang members and ventures into one of their boarded-up-building clubhouses, in hopes of quelling tensions with 'The Crazy Homicides' from Coney Island. Sometimes helping their community (aiding neighbors during a late-night apartment fire), other times prepping for war (a meeting with 'The Ghetto Brothers' to purchase pistols) and often just having everyday interactions (Louie's gravedigger day job, arguing with girlfriends, getting seriously-ugly tattoos), it's an intimate, unfiltered peek into 'The Sex Boys.' Without question, the most striking moments occur an hour in, because even a crime-ridden blackout doesn't stop these crazy Germans from venturing into the war-zone-style streets with their cameras -- filming Molotov-tossing kids, ransacked stores, looters fighting each other over an armful of clothes, and the overwhelmed police precinct... Rehbein adopts a fly-on-the-wall approach, with German narration and some bizarre synth soundtrack music added in post, and they must've been pounding back shots of Schnaps in the editing room when their tripped-out Halloween-party/haunted-house finale was conceived. From the shocking desolation of the South Bronx, to the bustling Coney Island boardwalk after dark, to Rikers Island -- it's all captured with an outsider's inquisitive eyeand an almost TAXI DRIVER-esque amount of nighttime urban imagery. LEFTY is sprawling and unfocused, but also absolutely fascinating.

© 2013 by Steven Puchalski.